Banned
Join Date: Mar 2011
Posts: 82
Who Should Fight Sakuraba?
---
Can someone tell me how they do matchmaking in DREAM, especially matchmaking for Sakuraba. Sakuraba is underdog for most of his fights, do people just want to see Sakuraba lose or what? Why do they always put him up against skilled fighters with no names?

Why did he fight a no name guy like Yan Cabral? Yan Cabral is a good fighter and is 9-0 prior to defeating Sakuraba, but still how come they put him up against Sakuraba on his DREAM debut, and Cabral hasn't fought in a major MMA league prior his DREAM debut? Sakuraba lost a few recent fights, but why did they put him up against a newcomer?

And why did Sakuraba get a title shot against Marius Zaromskis when Sakuraba lost his last 2 fights? Shouldn't they give the title shot to a guy who actually deserve it? There are many guys in Dream who deserve the title shot more than him.

And why did he fight Ralek Gracie? Ralek Gracie was 2-0 before defeating Sakuraba, why would they put another unknown guy against sakuraba? Well actually Gracie did win the fight, but still shouldn't Sakuraba be fighting a more well known guy?

And why did he fight Rubin Williams who hasn't had 1 single MMA fights and is basically a boxer with limited submission defense and get subbed by Sakuraba fast. I don't think Rubin deserve to earn a paycheck from a MMA fight.

And why did he fight Andrews Nakahara whos making his MMA debut. Basically Nakahara is a karata champion who's having his first MMA fight against Sakuraba and lost by submission. I also do not think he deserve a paycheck from a MMA fight.

And interestingly many fighters who's making their DREAM debut against Sakuraba never fight in DREAM again. It's like looking for a new guy to fight in DREAM event, put him up against Sakuraba, doesn't matter if he wins or not they never ask him to fight in DREAM again.

What is going on?
---
Last edited by Coke; 09-28-2011 at

07:16 AM

.
Bantamweight
Join Date: Jun 2008
Location: katy tx
Posts: 774
Sakuraba shouldn't even be fighting anymore, so enjoy the fact that he still does!
I agree that he certainly should be retired completely before he hurts himself. The Japanese have a way of milking a fighter for all he's worth. It's possible that's what they are doing.
---
The Emoticon Guy
Hell what's ken shamrock doing these days? They can meet at 205 or something, then after saku beats down the old fogey he should retire.
---
If a law is unjust, a man is not only right to disobey it, he is obligated to do so. ~ Thomas Jefferson
Sig by D.P.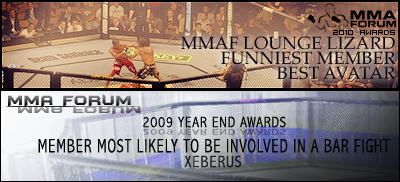 Nobody, he's going to be talking like Ali or dead if he doesn't retire.
---
sakurabushidokan.homestead.com
I could see Sakuraba versus Shamrock being a hit for old school fans. It would be interesting to see these old men go at it. They maybe shells of their former selves but still have drive.
---
The Emoticon Guy
Bantamweight
Join Date: Jun 2008
Location: katy tx
Posts: 774
Why does saku still fight? He looks like 1 hit could kill him
---
Godless heathen...
He might be one of those guys that just prefers to keep fighting. However, I do believe that if he'd been in the states they would've banned him from ever fighting again. Unfortunatly he doesn't live in America, he lives in Japan where they milk fighters as much as they can.
---
The Emoticon Guy
He should face Shamrock in a retirement fight, they both should've left the sport 6 years ago.
---
'Bisping's a dick'

Dana White
Watching Sakuraba fight does remind me of watching Shamrock these days. Its sad except for the fact that you feel bad for Saku because he is not a giant delusional douche like Shamrock.
Currently Active Users Viewing This Thread: 1

(0 members and 1 guests)
Posting Rules

You may post new threads

You may post replies

You may not post attachments

You may not edit your posts

---

HTML code is Off

---