Banned
Join Date: Jul 2007
Location: Backseat of the PlazzVan
Posts: 6,472
K-1 Fighter Profile: Michael McDonald
---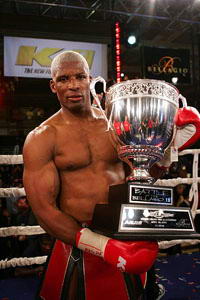 Nickname: The Black Sniper
Nationality: Canadian
Date of birth: February 6, 1965
Place of birth: Birmingham, England
Fighting out of: Canada
Height: 5 ft 11 in
Weight: 210 lb
Style: Kickboxing
Kickboxing Record:
Total fights: 72
Wins: 52
Wins by KO: 20
Losses: 20
MMA Record:
Total Fights: 2
Wins: 1
Losses: 1
Fighter Bio:
Michael "The Black Sniper" McDonald is a Canadian kickboxer. Known for his gladiator trunks, dyed blond hair, cut physique, and superb technical abilities. He is the 3 time K-1 World Grand Prix Las Vegas tournament Champion and one of the few Canadian kickboxers to have achieved such an international acclaim.
Michael McDonald was born in Birmingham, England. By the age of two his family had moved to Mandeville, Jamaica and then eight years later to Edmonton, Alberta, where he remained through his school years.
While growing up Michael was active in a variety of sports including track and field, football, soccer, baseball and wrestling. At the age of 17 a friend introduced him to the world of Muay Thai.
Graduating from school, he found himself training alongside former Canadian Champion Jimmy Cheung and former World Champion Billy Chau. His first professional fight was in Regina, Saskatchewan. Facing a heavily favored local fighter, it took Michael only 30 seconds of the first round to win his first professional bout.
In 1996 Michael entered the K-1 fighting network and started to train with the 1992 Karate World Cup Champion, Andy Hug. He stayed with "Team Andy" for 3 years fighting in the K-1 Grand Prix throughout the world. Currently he lives and trains in Vancouver, British Columbia
In 2000 Michael stunned a crowd of 35,000 in Fukuoka, Japan, by winning a unanimous decision over the heavily favored Nicolas Pettas and gained his nickname "The Black Sniper", because of his methodical way of picking apart opponents, while still conserving energy. Michael established himself as a household name in Japan with a huge fan base.
In 2002 Michael won both K-1 tournaments held in that year in United States, K-1 USA Grand Prix 2002 and K-1 World Grand Prix 2002 in Las Vegas. In December 7, 2002 he was selected for K-1 World Grand Prix 2002 Finals first reserve fight against Swedish Martin Holm.
In 2004 he re-claimed the K-1 USA 2004 North American Grand Prix Championship title. He was knocked down by Marvin Eastman in the first round of the quarter finals, but got up and dispatched his opponent with a KO in the second round. Scoring another second round KO in the semi-final against Kelly Leo, McDonald advanced to the final. In front of a packed house of 6,000 fans at The Bellagio in Las Vegas, Michael dispatched Dewey Cooper to win the title for the third time in three years. The award was presented to Michael McDonald by Muhammad Ali accompanied by Mike Tyson.
In August 12, 2006 he returned to Las Vegas for fifth time to re-claim the title. He won first two fights over Ariel Mastov and Imani Lee and reached the tournament finals once again but lost the title fight against German Stefan Leko.
Although he is reaching the end of his career, he still manages to keep a strict diet and training regime to continue his quest to Tokyo Dome to achieve the K-1 World Grand Prix title before he retires.
Titles Held:
2004 K-1 North American Grand-Prix Champion
2002 K-1 North American Grand-Prix Champion
2002 K-1 USA GP Champion
W.K.C. World Cruiser Weight Champion
W.K.A. North American Heavyweight Champion
Canadian Heavyweight Champion
Currently Active Users Viewing This Thread: 1

(0 members and 1 guests)
Posting Rules

You may post new threads

You may post replies

You may not post attachments

You may not edit your posts

---

HTML code is Off

---