What an amazing kickboxer and one of the few world elites gifted with Tyson style killer instinct. I have all the respect for Badr as a combat athlete but absolutely zero respect for Badr as a human.

I understand that his temperament likely drove him to be an elite kickboxer when he was younger, fair enough. The guy is now a fully grown responsible adult and has had all the time to mature and control his emotions especially being an idol and showcase to his worldwide fans.
If guilty he fully deserves to go jail and learn the hard way. Hopefully he realises that his skills are no place for the public, as he is a killing machine fighting ordinary people.
---
Franklin,Gouveia,Maia,Kharitonov,Hunt,Liddell,Pari syan,Hardy,Shlemenko,Machida,Gomi,Bustamante,Evans ,Edgar,Hathaway,Bonnar,Murray,S.Carter,Ludwig,Pett is,K.Gill,Sobral,Mousasi,D.Cruz,Arona,Nogueiras,Co te,Ole Laursen,Kawajiri,Sakuraba & K1 Lebanner!
I wish there were cures for how peoples are.

Such a waste.
---
If a law is unjust, a man is not only right to disobey it, he is obligated to do so. ~ Thomas Jefferson
Sig by D.P.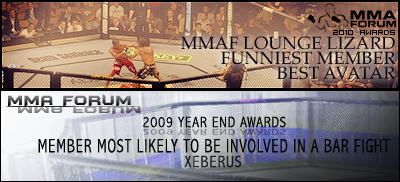 This guy is a bully. Probably one of the most disrespectful, immature, and undeserving fighters to ever make it big (at least in the kickboxing world). The guy should have been kicked out of K-1 forever after what happened with Remy. This guy should never be allowed to compete again.

At the same time if he did...I could not help but watch. He plays the perfect villain.
---
mad props: Toxic
MMA Fanatic
Join Date: Aug 2012
Location: 2331 W Esplanade Ave #L, Kenner, LA 70065
Posts: 1
Appreciated ! He may endanger lives as he totally lost his mental control. I think he gonna underestimating everyone. Totally weird...
Surprised Osmium hasn't weighed in.
---
mad props: Toxic
Amateur
Join Date: Aug 2012
Posts: 132
He was never that good, has power but a weak chin, he wouldnt have made it in a prime hoost aerts era
Currently Active Users Viewing This Thread: 1

(0 members and 1 guests)
Posting Rules

You may post new threads

You may post replies

You may not post attachments

You may not edit your posts

---

HTML code is Off

---