Lesnar Update! Possible opponents!
---
This is what the wrestling observer has to say. They are looking at most likely Butterbean or Abbot or James Thompson. I dont know though. I think that it would most likely be Abbot because I think that Butterbean and Thompson are still under the Pride contract but Im not sure.
Wrestling Observer - The Newsletter by Dave Meltzer
So is the bout between Lesnar Vs Hong Man Choi officially off??

Lesnar vs Abott I believe Lesnar would win easily on the ground.
Lesnar Vs Butterbean I believe Lesnar would win easily on the ground.
Lenar vs Thompson would be a real tough 1st opponent for Lesnar and would definetly take Thompson in that one.
Posted on Sherdog at 11 p.m. Friday

CSAC Grants FEG License, Saku Status Uncertain
by Josh Gross (joshg@sherdog.com)

The California State Athletic Commission on Friday announced it has granted FEG USA a temporary promoter's license just eight days before the company is scheduled to hold "Dynamite!! USA" at the Los Angeles Memorial Coliseum.

Originally billed with a main event featuring the mixed martial arts debut of former WWE star Brock Lesnar (Pictures) against popular South Korean figure Hong-Man Choi (1-0-0), FEG was left scrambling on Tuesday for options after the CSAC denied Choi, 26, a license to fight due to unnamed medical concerns. In the wake of the seven-foot-two Choi's questionable health, FEG opted to look for a second medical opinion while exploring for a replacement fighter.

While Choi's status remains unresolved, Lesnar, who is licensed by the CSAC, is still expected to fight, possibly against another unnamed Korean "star," said FEG representative Mike Kogan.

Weighing more heavily on the minds of MMA fans is the status of Japan's Kazushi Sakuraba (Pictures), who is slated to fight in the co-main event against former nemesis Royce Gracie (Pictures) (13-3-3). Upon arriving in Los Angeles on Wednesday, Sakuraba (21-9-1, 2 NC) has undergone a battery of tests, including having to wear a heart monitor over a 24-hour period, Kogan said.

The Japanese face of the PRIDE Fighting Championships until 2005, Sakuraba moved from PRIDE to Fight Entertainment Group's K-1 HERO'S, where he has two wins in three fights, the lone blemish coming in a controversial No Contest to Yoshihiro Akayama last New Year's Eve.

Sakuraba, 38, should know if he's fighting by Tuesday, just four days before the SHOWTIME pay-per-view televised card.

Choi and Sakuraba were two pieces of a puzzle that FEG hoped would draw from Southern California's substantial Asian community as it attempted to fill the historic 90,000-plus seat building, which was the host venue for the 1932 and 1984 Olympic games.

Kogan said ticket sales have lived up to FEG's lofty expectations.

Calling support from the local Asian communities "overwhelming" and suggesting that MMA fans in the L.A. area have jumped on board as well, Kogan indicated that June 2's card would easily break North American records for attendance and ticket sales, which are both currently held by Zuffa's Ultimate Fighting Championship.

Said Kogan: "We wanted to make a statement that MMA can be bigger than a basketball arena in the U.S. and kind of show people a little more of an entertainment aspect of it by putting on a good card for hardcore fans."
Lesnar VS Butterbean! I'd love to see that!
---
Bantamweight
Join Date: Apr 2007
Posts: 731
Butterbean or the Asian guy would be fine with me Thompson and Tank would get walked all over by Lesnar in my opinion. I think he could take Couture and Gonzaga.
---
Brock Lesnar will be the #1 ranked fighter, and will be best fighter ever.

Favorite fighters:

HW = Lesnar
LHW = Arona / RAMPAGE
MW = Filho
WW = Koscheck
LW = Ruediger
I want Lesner to win, but they have to give him somewhat of a challenge. I don't want to see him effortlessly trash some guy.
I'd like to see him trash the guy but with a bit of drama.
---
Lifting one globe at a time!

Fav fighters
Tito Ortiz
Frank Shamrock
Aleksander Emelianenko
Fedor Emelianenko
Shogun
Phil Baroni

Rep me + and I will return the favor.
Megaweight

Join Date: Apr 2006
Location: Everett, MA
Posts: 5,961
I dunno man but I think Lesnar would steamroll just about every guy he faces outside of the top 7-8 HW's. A guy with that type of size and stregnth is tough to handle, Nevermind that he was All-American wrestler at Minnesota.
---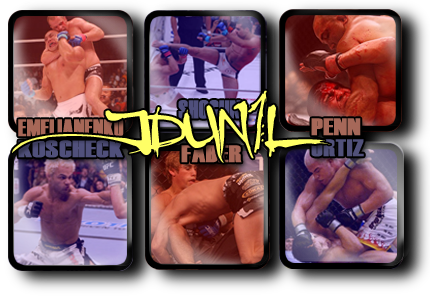 Mancrushes
1.Shogun
2.BJ
3.Fedor
4.Kos
5.GSP
Im in Porno's
He's just too big and strong.

The guy is 6'2 and like 270.

That is ****ing huge. and not a spec of body fat either.

He's benched 700 and squated 1000

Picking up someone like a 225-300 pound HW is going to be like nothing for him.
---
Lifting one globe at a time!

Fav fighters
Tito Ortiz
Frank Shamrock
Aleksander Emelianenko
Fedor Emelianenko
Shogun
Phil Baroni

Rep me + and I will return the favor.
MMA Fanatic
Join Date: Mar 2007
Posts: 7
But who's gonna write the outcomes for Lesner? Will he know what to do without a script? And are folding chairs going to be available @ K1 events now?
Currently Active Users Viewing This Thread: 1

(0 members and 1 guests)
Posting Rules

You may post new threads

You may post replies

You may not post attachments

You may not edit your posts

---

HTML code is Off

---