K-1 Korea ***SPOILER***
---
Well fella's, Kang vs. Akiyama was a barn-burner...For 1 Round. I'm half asleep but I'll give you a breakdown. They came out and traded. Akiyama had a glancing punch land on Kang's nose. The rest of the fight, Kang was wiping blood and blinking a lot.
Akiyama backed Kang into the corner, caught him with a HUGE uppercut and put him out. As Kang slumped, Akiyama got a left hook in that sent his mouthpiece flying.
KO for Akiyama, Round 1.
I heard Kang say he couldn't see anything after the fight.
I'm seriously considering never having an avatar of a fighter again, cause everytime I do...they lose.
Great fight though, check it out when its up on youtube or dailymotion.
---
damn it i knew i should have bet on Akiyama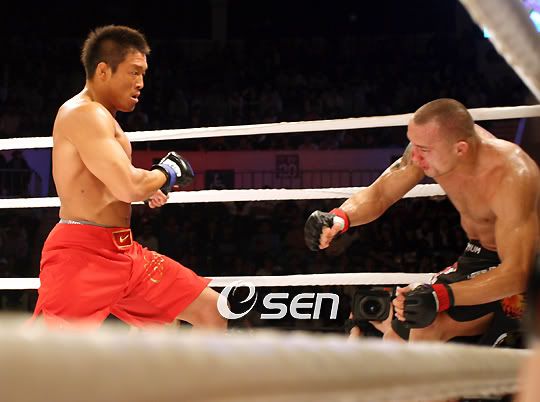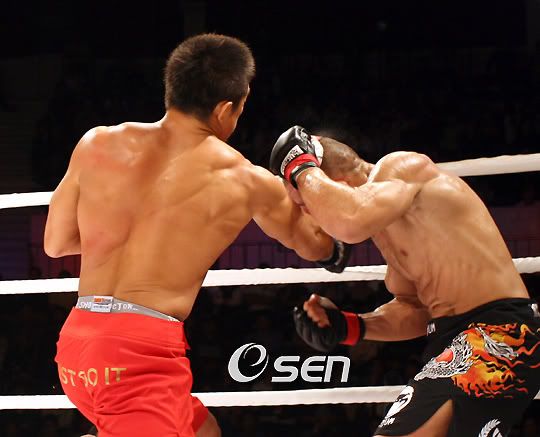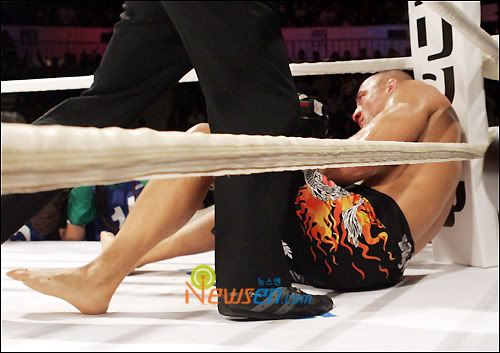 I'm disappointed Kang didn't win, but at least he always puts on an exciting fight. Akiyama just never stopped coming forward, and I think Kang's nose was broken...not sure though. That could have been the beginning of the end.
---
More Fight's
---
Marcelo Garcia dropped his first MMA fight due to a Doctor's Stoppage. He looked great in Round 1, taking his opponents back. Round 2, he shot in and ate a knee. Immediately, a cut above his eye started pouring blood. He left the ring with a towel around his head. Hermes Franca cornered him for this fight...just an aside.

Zelg Galesic threw 2 LHK's in a row, cut his opponent and the Ref stopped it.

Carlos Newton looked like he didn't train for this fight at all. He lost to Oyama in Round 3, submitting to strikes.

Minowa lost...wow. Ref stoppage. He was eating knees to the face in one of the corners and was pinned down pretty bad. He didn't have a chance at getting out of that situation and the ref had to step in.
---
Where do you think Kang is going to drop in the rankings?
attention whore
Join Date: Oct 2006
Location: Branson, Missouri
Posts: 14,445
Yoon brings the armbarry goodness once again. Seriously, The Donger may be the most overlooked fun guy in MMA right now. Dude went from totally forgettable to freakin' fun in about a span of 2 years.

Damn, Newton is just uninspired. The Newton of old would've tooled choads like Oyama in about a minute. Now, Newton ends up losing to Pride's most forgettable tomato can. Ouch. In the other thread, Terry mentioned that Newton must not give a shit anymore. He'd be right about that.

Kang, man, enough was already said. I do dig Akiyama, though.
---
Banned
Join Date: Apr 2007
Location: Montclair, NJ
Posts: 11,605
attention whore
Join Date: Oct 2006
Location: Branson, Missouri
Posts: 14,445
Akiyama is definitely a guy who should be getting some more love. I know, dude used baby oil like Baroni uses the roids, but the guy has talent. I'm loving the Judoka takeover, and I'm sure Judoka, the guy who posts here, is digging all of this.
---
Banned
Join Date: Apr 2007
Location: Montclair, NJ
Posts: 11,605
Akiyama is IMO a better fighter than Trigg, Misaki, Marquandt, Okami, and obviously Kang. Now I wouldn't rank him in front of them since he hasn't really proven much but I think he could beat most of the MW divison outside of Anderson, Filho, Lindland, Henderson and Lawler.

Akiyama vs Franklin would be real intersting I'm not sure who I think would win.
I am so on the Dong Sik Yoon bandwagon.
You have to love the "Can who makes good" storyline.
---

Self-proclaimed leader of the Bao Quach bandwagon
On the Handsome bandwagon
It's Hellga time!

Currently Active Users Viewing This Thread: 1

(0 members and 1 guests)
Posting Rules

You may post new threads

You may post replies

You may not post attachments

You may not edit your posts

---

HTML code is Off

---