I think bonjasky fights way to clever to be bested by Overeem. If I'm wrong I too will never watch K-1 again
---
"He who defeats himself is the mightiest warrior" - Confucius(I think)
Im telling you guys I expect Remy to beat Overeem if the bout happens but Overeem will definetly give him a good fight. Overeems style transition to K1 is very awkward for K1 fighters.
---
Franklin,Gouveia,Maia,Kharitonov,Hunt,Liddell,Pari syan,Hardy,Shlemenko,Machida,Gomi,Bustamante,Evans ,Edgar,Hathaway,Bonnar,Murray,S.Carter,Ludwig,Pett is,K.Gill,Sobral,Mousasi,D.Cruz,Arona,Nogueiras,Co te,Ole Laursen,Kawajiri,Sakuraba & K1 Lebanner!
-I came|I saw|I failed-
Join Date: Mar 2007
Location: The plazzVan
Posts: 9,734
Quote:
wow overeem is getting bold if he actually beats remy(which i think he wont) then k1 loses most of its credibility having a guy who is not considered to be a very good striker in mma defeat two of the top top k1 guys
When was Overeem deemed a bad striker? In fact I've always put him up there with some of the best strikers in MMA.
Also, he started out as a kickboxer, so it's not much of a surprise that he's this good at striking right now.
Quote:
Why? Because Alistair hits like a tank now and trains with some of the best kick boxers on the planet?
Yeah he hits like a tank, but Hari's style was somewhat perfect for him as he doesn't have the best chin, and just comes forward like nobody's business. But I think that fight would have been better if Hari was as trained and prepared as he was for the WGP.
Anywho, Remy would most likely take this because he just has this amazing ability of not being hit, and he works the distance VERY well. He's extremely frustrating.
I can see Schilt beating him as well.
Super Heavyweight
Join Date: Feb 2008
Posts: 4,079
u cant prepare chin can u?
-I came|I saw|I failed-
Join Date: Mar 2007
Location: The plazzVan
Posts: 9,734
Quote:
u cant prepare chin can u?
What?
Anyways, Remy should beat him. I'm biased, but I Remy is my favorite K-1 fighter. Without him, K-1 would be nothing to me.
Although, I've been supporting Overeem since pride days. I knew his striking was underrated, and that he should have been a HW because of his body type. Now he's looking kinda unstoppable with his bulkyness.
If I could have my way, I wouldn't let them fight. But if they did, Remy all the way.
---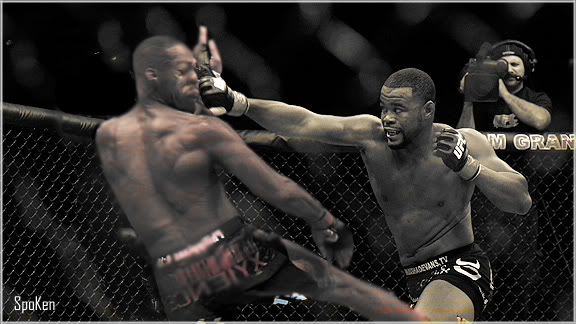 Sweet sig by Life B EZ
I feel like I get paid way to much money, but not enough -Nick Diaz
Banned
Join Date: Jul 2007
Location: Backseat of the PlazzVan
Posts: 6,472
Quote:
I think k1 fighters are too lazy, Overeem just trained a lot harder than Hari did and was better prepared and i think he would beat my favorite K1 fighter of all time too, Remy Bonjasky.
Of course he trained harder than Hari because Hari had only a week/week and a half to train where as Alistair had his normal training time. Hari seriously didn't think he was fighting until February.
Currently Active Users Viewing This Thread: 1

(0 members and 1 guests)
Posting Rules

You may post new threads

You may post replies

You may not post attachments

You may not edit your posts

---

HTML code is Off

---