Melvin got owned!
---
What the ****?!?
Damnnnnnnnnnnnn
I guess being so aggressive like that all the time will come back and bite you in the ass.
---
"Right kick; hospital, left kick; cemetery" - Mirko "Cro Cop" Filipovic
I saw that live, I was sooo pissed off because I picked him to win the tourney. Him or Spong.. and they both got KO'd... I'm pissed off.

WAR REMY though. It hurt seeing Alistair get knocked down, but it was a good fight.

Both of these fighters are favorites of mine, and it was a good fight.
---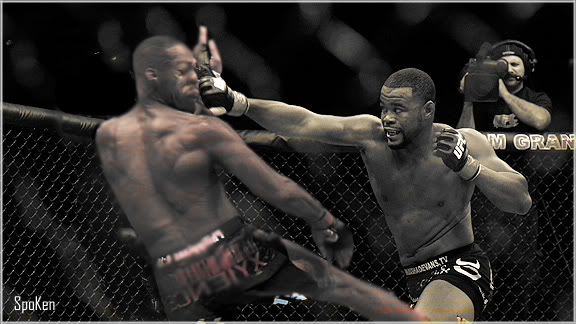 Sweet sig by Life B EZ
I feel like I get paid way to much money, but not enough -Nick Diaz
Damn, I didn't see this fight. But he went down pretty hard in that gif you posted.

I'll have to try to dig the fight up today.

That looks pretty brutal.
---
_RIVALS TOP 10

ANDERSON "THE SPIDER" SILVA
JAKE SHIELDS
NICK DIAZ
EDDIE ALVAREZ
JUNIOR "CIGANO" DOS SANTOS
GILBERT MELENDEZ
MAMED "THE CANNIBAL" KHALIDOV
HECTOR "SHANGO" LOMBARD
CAIN VELASQUEZ
GEGARD "THE DREAM CATCHER" MOUSASI

Wow, I haven't seen this yet, but he looks like he's out..I'll have to find these fights.
---

Featherweight

Join Date: Feb 2007
Posts: 1,152
Featherweight

Join Date: Feb 2007
Posts: 1,152
no problem.
DId you think Overeem won that fight? I did.
He had him rocked and opened himself too much. This sucks.
---
"He who defeats himself is the mightiest warrior" - Confucius(I think)
Currently Active Users Viewing This Thread: 1

(0 members and 1 guests)
Posting Rules

You may post new threads

You may post replies

You may not post attachments

You may not edit your posts

---

HTML code is Off

---