This is for there up coming fight on the It's Showtime! event. Ive heard rumors that Saki is injured but nothing official. ill update if it changes.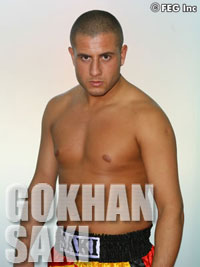 Nickname: The Rebel
Nationality: Turkish
Date of birth: October 8, 1983
Place of birth: Malatya, Turkey
Fighting out of: Amsterdam, Netherlands
Height: 5 ft 11 in
Weight: 214 lb
Style: Muay Thai
Years active: 7 (2001-present)
Kickboxing record:
Total: 76
Wins: 65
By knockout: 47
Losses:10
No contests: 1
Fighter bio:
Gökhan "The Rebel" Saki is a professional Turkish-Dutch Heavyweight kickboxer and martial artist, fighting out of Golden Glory Gym in Amsterdam, Netherlands. He is two time Dutch and European Muay Thai champion, K-1 World GP 2006 in Amsterdam tournament finalist and K-1 World GP 2008 in Hawaii champion as the first ever Turkish fighter holding a K-1 tournament title.
Gokhan Saki started practicing Muay Thai in 1993 at the age of 10 in "ss Pasztjerik" under Jan Pasztjerik. Gokhan trained with Pasztjerik for seven years before moving to the Golden Glory in 2001. Training in Golden Glory with Cor Hemmers, Saki became Dutch, European and World Muay Thai champion within three years. Even though to this day Gokhan considers Jan as the main influence who helped him develop to the fighter he is today.
Titles held:
2008 K-1 World GP 2008 in Hawaii Champion
2008 WFCA Super Heavyweight World title
2006 K-1 World GP 2006 in Amsterdam finalist
2003 World Muay Thai champion
2002 European Muay Thai champion
2001 Dutch Muay Thai champion
Nickname: King of the Ring
Nationality: Dutch/Suriname
Date of birth: September 3, 1985
Place of birth: Paramaribo, Suriname
Fighting out of: Amsterdam, Netherlands
Height: 6 ft 2 in
Weight: 202 lb
Style: Muay Thai
Years active: 6 (2002-present)
Kickboxing Record:
Total: 85
Wins: 81
By knockout: 57
Losses: 3
By knockout: 2
Draws: 1
Fighter Bio:
Tyrone "King of The Ring" Spong is a professional Dutch-Surinamese kickboxer and martial artist. He is the reigning WFCA Cruiserweight Muay Thai and It's Showtime 95MAX World champion, fighting out of Fighting Factory Carbin in Amsterdam, Netherlands.
Tyrone Spong was born in Paramaribo, Suriname. In 1990 at the age of 5, he moved to Netherlands with his family.
In 2003, his first year as a pro, he made his mark winning 12 fights a year. In 2004, he fought against Rafi Zouheir at the Battle of Zaandam and won his first European Muay Thai Title (WKN). In 2004 Spong also visited Japan to compete in Shootboxing where he lost to Ryuji Goto. Goto suplexed him in the final seconds of the fight to earn a well-received unanimous decision. His next fight in April 2005, was against Belgian Mohammed Ouali for another European Title (WPKL). Spong won the fight by unanimous decision.
In December, 2005 at the A-1 Combat Cup in Turkey, after three consecutive KO's in one night, Tyrone Spong won his first tournament Championship.
In 2006 Spong had two his biggest victories of his young career, KO wins over Muay Thai veteran Joerie Mes and two weeks later knocking out K-1 superstar Kaoklai Kaennorsing from Thailand in a first round.
His 30+ winning streak came to end in March 27, 2007 against Amir Zeyada. He recently made his debut at K-1
Titles Held
:
2008 It's Showtime World champion 95MAX
2008 WFCA Cruiserweight champion.
2008 KO World Series Oceania champion.
2005 A-1 Combat Cup Tournament champion.
2005 WPKL European Champion 72.5 kg
2004 WKN European Champion
MTBN Junior Class Dutch Muay Thai Champion 66kg
Heres there previous fight earlier this year.