A muslim is riding aimlessly through the desert on a donkey. He is not hungry or thirsty, because he has a bottomless bowl of fruit. He wanders for about a week and eventually gets pretty horny. He gets to the point where he can't stand it anymore.
So he decides to try and have s*x with the donkey.
He drops his pants and positions himself under the donkey. But, to his dismay, the donkey walks away.
Only slightly discouraged, the man decides to try again. He walks to where the donkey is standing, positions himself under the donkey, and right before he goes for it, the donkey walks away again. Now the man is getting frustrated.
As he prepares for his third and final try, he sees a vision. A beautiful, naked woman appears out of nowhere. She approaches the stunned man, who until recently, believed that he was the only person for hundreds of miles.
She smiles at him and says, "I would do anything for that bowl of fruit you have."
"Anything?" he says, getting fairly excited.
"Yes, anything." she replies.
So he says, "Will you hold the donkey?"
---
If a law is unjust, a man is not only right to disobey it, he is obligated to do so. ~ Thomas Jefferson
Sig by D.P.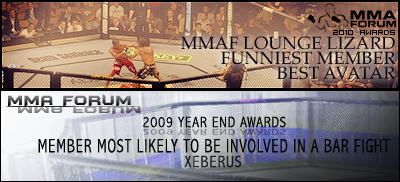 MMA Fanatic
Join Date: Jun 2007
Posts: 27
I was going to tell a joke but then remembered that my work.history was also laughable

Here's a little bit about me......

My first job was working in an orange juice factory, but I got canned, I couldn't concentrate.
Then I worked in the woods as a lumberjack, but I just couldn't hack it, so they gave me the axe.
After that I tried to be a tailor, but I just wasn't suited for it. Mainly because it was a so-so job.
Next I tried working in a muffler factory but that was exhausting.
I wanted to be a barber, but I just couldn't cut it.
Then I tried to be a chef–figured it would add a little spice to my life but I just didn't have the thyme.
Finally, I attempted to be a deli worker, but any way I sliced it, I couldn't cut the mustard.
My best job was being a musician, but eventually I found I wasn't noteworthy.
I studied a long time to become a doctor, but I didn't have any patients.
Next was a job in a shoe factory; I tried but I just didn't fit in.
I became a professional fisherman, but discovered that I couldn't live on my net income.
Thought about becoming a witch, so I tried that for a spell.
I managed to get a good job working for a pool maintenance company, but the work was just too draining.
I got a job at a zoo feeding giraffes but I was fired because I wasn't up to it.
So then I got a job in a gymnasium (work-out-center), but they said I wasn't fit for the job.
Next, I found being an electrician interesting, but the work was shocking.
After many years of trying to find steady work I finally got a job as a historian until I realized there was no future in it.
My last job was working at Starbucks, but I had to quit because it was always the same old grind.
Currently Active Users Viewing This Thread: 1

(0 members and 1 guests)
Posting Rules

You may post new threads

You may post replies

You may not post attachments

You may not edit your posts

---

HTML code is Off

---