Are you comfortable? I've had similar experiences with insomnia. The times when I would sleep very lightly and jar awake with the smallest sound were times when I was uneasy or nervous about things. If its like that for you, I don't really know what I did to change that it just kind of changed on its own. But now my ritual of sleep is to just relax mentally. I lay down without anxiety or worry of not being able to sleep. I close my mind and do my best to focus on blackness or my breathing. Not thinking about anything or anyone for several minutes. After that I think of crazy scenarios that would be fun or entertaining. A common theme is what I would do with 50 million dollars. Imagine that as if it were a situation I was faced with right now, from what I'd buy to the places I'd travel to how much I'd give my family and friends etc. But the theme can be anything, hell you notice a black notebook falling to the ground one night on your way home from work. Some of you nerds may get that last one :P

A big thing is this "who gives a **** if I don't sleep" I mean you've gone without sleep for days before right? No biggie, you can do that shit on your head, just get totally enveloped in your situation. Fear of not sleeping causes many people to not be able to sleep, whatever it takes you just have to let that worry and anxiety go.

Hopefully what I said will help you in some way, but in case its a big pile of bullshit and you want some pills to help make you sleep. Pain-o-soma. A friend of mine suffers from regular insomnia, this medicine which he orders online helps him sleep. This is not like melatonin or however you spell it, its not some weak crap to give you a "placebo" effect this crap will help you down. Its expensive to buy, but it works. If you are interested in this after reading about it, PM me I can find out where he buys it. The guy who takes it is a medical student.
---
If a law is unjust, a man is not only right to disobey it, he is obligated to do so. ~ Thomas Jefferson
Sig by D.P.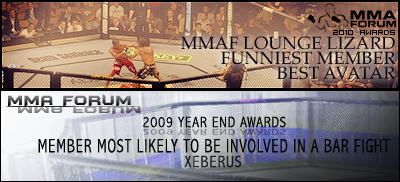 Currently Active Users Viewing This Thread: 1

(0 members and 1 guests)
Posting Rules

You may post new threads

You may post replies

You may not post attachments

You may not edit your posts

---

HTML code is Off

---