MMA Fanatic
Join Date: Nov 2010
Location: Williamston MI
Posts: 5
First cage fight.
---
Okay my names Collin Schoenborn I am about to start cage fighting, I have flim on my first fight, The fighter has about 3 inches of reach on me( i have some short ass arms) I am a experinced wrestler and i know alot about well... grappling in genral. I was wondering if you think i should try and stand with him reguard less of the advanged or take it to the ground and risk get choked in a guiltione.

If anyone has any ideas how to beat his reach advantage standing that would really help me thanks.
Collin Schoenborn
3" total or 6" total????? If you have been wrasslin for a while you know how to close the distance and change levels keeping your head up not exposing your neck to bad....As far as standing thats up to you
MMA Fanatic
Join Date: Nov 2010
Location: Williamston MI
Posts: 5
thanks, i was thinking about closing the space, and some judo throws will work i guess my main thing is, if i want to exchange some punches and kicks i dont want to get killed. and standing is very important.
take his ass down!
---
If a law is unjust, a man is not only right to disobey it, he is obligated to do so. ~ Thomas Jefferson
Sig by D.P.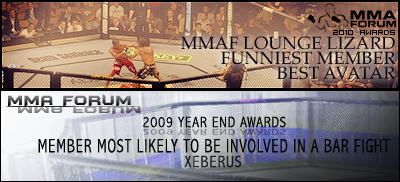 MMA Fanatic
Join Date: Nov 2010
Location: Williamston MI
Posts: 5
hahaha thanks bro. I was training yesterday, and because hes so tall he'll prolly have his hands up high, leaving those long ass legs exposed for a force double or even a sweep single. Im also trained in judo so I got some sweet throws.
MMA Fanatic
Join Date: Jul 2010
Location: Chicago, Il
Posts: 3
try it out man, measure him up... I say trade with him see how you feel, you might be better than him if you stay within distance, just remember to keep your hands up. If you dont think its going your way change levels and surprise him with a takedown and go from there.
You're not terribly important to me

Join Date: Jul 2010
Location: Sell me this pen
Posts: 15,507
i recommend destroying his legs with leg kicks then he is easier to take down and he is easier to punch, also he cant get any power out of strikes since he cant stand properly, trust me i am a student of the game
---
Jim Norton
Nick Dipaolo
Dave Attell
Dave Chappelle
Bill Burr
Joey Diaz
Colin Quinn
Bob Kelly
Rich Vos
Patrice O'Neal
Louis CK
I agree with the leg kicks, I started out thinking if I could get it to the ground early then I'd be better off, learned fast that taking out the legs with a LOT of well placed kicks will make him not want to stand up. Feel him out and see how he reactes to the leg kicks, inside and outside kicks, watch his face and see what it says. Then if you think you can get him on the ground, get side control or north south. Good Luck!!
I'd be cautious with the leg kick idea, particularly if you are not that comfortable in stand up fighting. It also depends on your opponent. You say he has a 3" reach advantage. The problem is that low kicks make you vulnarable to punches to your face in general and especially with your opponent having a reach adantage. And be aware that your opponent could do the same and attack your legs which you will need to shoot for a take down. There is also a psychological aspect not to be underastimated: if you decide to stand with him, although you are a wrestler, and get hit (particularly in the face), because he is the better stand up fighter, then you will later be more hesitant to shoot for the take down than you would have been if you had shot right in the first place without that negative stand up experience.

So with shorter reach and being mainly a wrestler and grappler you may feint a punch and then shoot right away for the take down. But it's best to ask your trainer as he will be more able to estimate your skills than us people here in the forum.
Flyweight
Join Date: Sep 2010
Posts: 205
I have to say ifyou already have the fight schedualed and are now trying to figure out your gameplan to fight a taller fighter...you should not be competing yet
I'm sorry but you take your health in your hands when you compete and you are asking people online who's abilities you know nothing about how to plan for this fight?
I think you should do a lot more training before you compete again
but get back to us let us know how this went
Currently Active Users Viewing This Thread: 1

(0 members and 1 guests)
Posting Rules

You may post new threads

You may post replies

You may not post attachments

You may not edit your posts

---

HTML code is Off

---