the guy has been brutally KOed like 8 times in his mma career. not tkoed... KOed.

this guy probably has to avoid powerful gusts of wind to avoid being knocked out xD
---
If a law is unjust, a man is not only right to disobey it, he is obligated to do so. ~ Thomas Jefferson
Sig by D.P.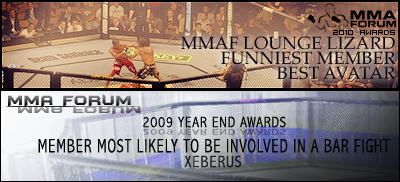 Man he rly has the worst chin ever lol.
---
mad props: Toxic
That's a wicked little punch. I realize there are people on here saying it didn't look like much of a punch, but if you watch the tape, you can see the Petkovic cocks his entire body back for that shot. You can actually seem him lift the front foot and drop it into the left hook.

It's not a traditional, hip-and-shoulder-swinging left hook, but it's damn effective.
---
Sig by Toxic

Barnett - Toquinho -Werdum - "Nurmie"
Z. Gurgel - Morango - Rocha - Tiequan
MMA Fanatic
Join Date: Sep 2009
Location: Edmonton
Posts: 42
He always makes for an entertaining KO. The guy should really stop fighting though before he seriously gets hurt haha.
Curitiba Food and Liquor

Join Date: Dec 2006
Location: NY
Posts: 16,176
More importantly, was the alien ear tumor back?
---

Sig Credit to Toxic

Dude needs to stop or he'll spend his 40th birthday eating through a tube and watching MASH reruns from a commode chair.

P.S. LOL at Thompson's coach yelling, "Chin down, hands up, James! Listen to me!" right before the fight.
MMA Fanatic
Join Date: Jul 2010
Location: Louisiana
Posts: 68
That didn't even look like a punch someone would go to sleep from, the punch looked slow, maybe it's just the video quality.
LOL!
He has one of the worst chins in MMA.
I can't believe he is still fighting.
You know he was the one who said:
Quote:
"I've been watching alot of DVD's" – James Thompson when asked about his training
No further comment.
---
.
BELIEVE!
Banned
Join Date: Aug 2007
Location: banned
Posts: 0
Did his ear explode????
Currently Active Users Viewing This Thread: 1

(0 members and 1 guests)
Posting Rules

You may post new threads

You may post replies

You may not post attachments

You may not edit your posts

---

HTML code is Off

---