The 60 pct UFC/40 pct Bellator Team
---
Seth Baczynski
"The Polish Pistola"
17-6
Next fight vs TBD (UFC)
Last fight knockout victory over Simeon Thoresean at UFC 152.
Eddie Alvarez
"The Silent Assassin"
23-3
Next fight vs Patricky Freire (Bellator FC 76)
Last Fight (Knockout victory over Shinya Aoki at Bellator FC 66):
Hatsu Hioki
"Shooto no Ko"
26-5-2
Next fight vs TBD (UFC)
Last fight (Unanimous Decision Loss vs Ricardo Lamas at UFC on FX 4):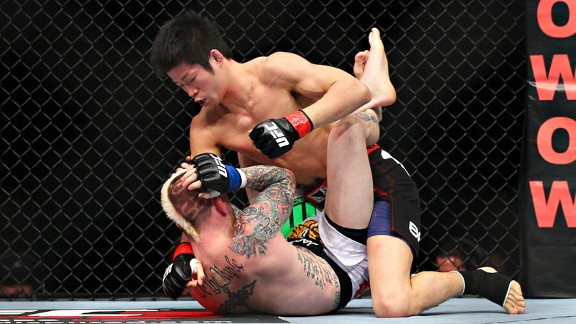 Maiquel Falc"o
"Big Rig"
30-4
Next fight vs Alexander Shlemenko (Bellator FC)
Last fight (Unanimous Decision victory over Andreas Spang at Bellator FC 69):
Antonio Silva
"Bigfoot"
16-4
Next fight vs Travis Browne (UFC on FX 5)
Last fight vs Cain Velasquez TKO'd rd. 1 (UFC 146)
Points Table
Quote:
Falc"o (+30)
Andy Silva (+27)
Alvarez (+21)
Baczynski (+19)
Hioki (+8)
Bigfoot Silva (+2)
---
Thats the same quoter as my team
winning formula right there.
We might get a Chandler v Alvarez rematch later thsi year also....
---
Member of the Anti-Fitching Society. Stop Fitching and Fitchery in MMA now!
-------FREE CHARLIE Z-------
FFL
'Roudy' Ronda Rousey, Fabricio Werdum, Vyacheslav Vasilevsky, Eric Koch, Alexander Sarnovsky
I hope they put that together, pipe, and not wait so long again for another Alvarez fight. Don't think he has a lot to recover from am I wrong?
---
Currently Active Users Viewing This Thread: 1

(0 members and 1 guests)
Posting Rules

You may post new threads

You may post replies

You may not post attachments

You may not edit your posts

---

HTML code is Off

---