Quote:
I've been hiptossed even an a wrestling matt and if they land on you especially it takes your breath away. On concrete? Something could be broken(rib).
I'd be worried about someone's arm or wrist getting broken, people like to put their hand down to catch themselves when they're thrown, or taken down...
---
D. Cerrone | R. Souza | F. Werdum | R. MacDonald | M. McDonald | D. Maia | J. Mein | C. Condit
M. Coenen | S. Kaufman | A. Davis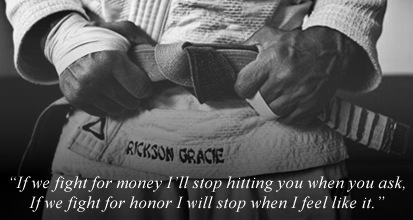 Colossal-weight
Join Date: Jan 2010
Posts: 9,844
Quote:
Hair pulling, biting, fingers to the eyes, headbutts. Then you have whatever elements are around you that could restrict movement depending on where exactly the fight took place. Even just the middle of the street is a unique factor. I wonder how Ronda would react if she got her nose broke with a headbutt while performing an armbar? Street fights are just sloppy in general. Even when trained fighters go at it, it's usually pretty sloppy.
I don't see how any of that would inhibit her from completely an armbar and eventually a broken arm?
Ok so she grabs the guy and quickly tosses him over he him and straight into in armbar. How will he pull her hair? How does he headbutt her? Is biting or scratching really going to make her stop? When the sub is in tight, the guy isn't going to be able to do much. And with a broken arm he isn't going to do much.
I don't see how hair pulling or biting is going to stop Ronda's lightening quick armbar?
Quote:
I wonder how Ronda would react if she got her nose broke with a headbutt while performing an armbar?
Why should she react differently to other pro fighters who got their nose broken during fights and just continued fighting¿ Hell,
Arthur Abraham
fought 8 (eight!) frickin' rounds with a broken jaw (and still won the fight)!
When I was a kid my uncle had business with Renzo Gracie. I remember him telling my uncle he could easily beat beat 5 guys of his size at the same time if he had his back against a wall. Maybe he was just bragging, but it didn't look like he was.
Flyweight
Join Date: Sep 2006
Posts: 329
Quote:
This is a question for people who legit train mma, could a top level female mma fighter beat up an untrained 25year old man who was in good shape? I know it depends on the guy, but lets just say on average.
My Tai Chi instructor is 65 years old and 5'4" tall. I'm 5'11, 250 lb. If I don't hit her clean with the first shot, I'm on the ground vomiting.
You specified an untrained man vs a professional female mma fighter. How fast do you think Cat Zingano's knees meet that guy's head?
And a street fight? With a professional fighter?
He comes in swinging wild, gets hit in a pressure point (throat, liver, solar plexus) and it's over.
Specify a trained 25 year old amateur man vs a pro female, and it might be a fight. Not in the street, but in the gym.
Untrained guy has ONE chance. Hit the pro before she realizes she's in a fight. Untrained guy thinks this is beating up his girlfirend. Professional female fighters TRAIN against guys. It's not new to them.
Flyweight
Join Date: Sep 2006
Posts: 329
Quote:
I think I was pretty clear in saying the more controlled the fight the more the trained fighter has the advantage. Also I said the trained fighter has the advantage either way just more so when it's controlled. Which IMO is all 100% true.
Speaking as the trained fighter who's fought in both environments, I disagree with you.
In the street, unarmed, untrained guys RUN when they realize you can fight. And you can bet they'll be back with friends or weapons, usually both. if they keep fighting, they're drunk or high, and you're going to have to break a serious part of their body to stop them.
In the gym, untrained guys who are in any kind of shape take the beating, and then wind up training at your school.
Again, I'm only speaking from experience, but it's a fair amount of experience. i was quite stupid when I was young, even after quite a lot of training. (hard-headed)
If me and Ronda did a kickboxing match, good chance I win but of course anything can happen. Although in a grappling match she kicks my ass each and everytime no fluke would even be possible on my part, my ass kicked, every single time.
---
---

Fedor, Mir, Lytle, Serra, Hendo, Chuck, Minowaman, Maynard, Forrest, Hunt
Pickett, Cerrone, Matt Brown, Bisping, Weidman, Barnett, Lawler


Featherweight
Join Date: Apr 2012
Posts: 1,444
Quote:
Yeah street fight is different. But if you where in a controlled environment and untrained? It doesn't look good for you.
Just her cardio alone means she would probably destroy most healthy 25 year old men, even ones who's fitness is well above average. Controlled environment or not.
She's an Olympic Judo champion with incredibly good BJJ. No one on this forum would stand a chance let alone some random guy on a street. Weight becomes somewhat irrelevant when a high level Judo practitioner is fighting someone who has no idea what they're doing. Same goes for BJJ as we've seen on multiple occasions.
She has muscles in places most guy don't know existed. Her grip strength is probably insane. There's just no way a random guy could beat her barring some freak knockout.
Quote:
Just with pure strength if a strong man picks Ronda up during and armbar he could potentially smash her into the ground or a hard surface.
Your arm would be torn off before you could even think of picking her up and slamming her.
Currently Active Users Viewing This Thread: 1

(0 members and 1 guests)
Posting Rules

You may post new threads

You may post replies

You may not post attachments

You may not edit your posts

---

HTML code is Off

---