What UFC fighter do you want to see LOSE!?
---
.
Whether it is because of...
-a big mouth
-questionable technique
-no good fights
-just plain over-rated to you
… and so on ….IYO ?
I would like to see Michael Bisping get the sh*t kicked out of him to be honest with you.
I find him to be very arrogant. I want to see him in a real match.
Who do you want to see get the boot! ... ???
---
Last edited by lazer; 06-17-2007 at

11:45 AM

.
I'd like to see both Diego Sanchez and Josh Koscheck get the ever living sh*t knocked out of them,Diego in particular.That boy gets on my last nerve!
Chris Leben and Diego Sanchez, I would love nothing more than to see those two get the ever holy **** beat out of them
---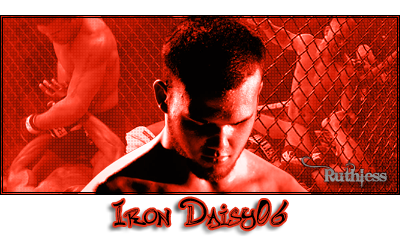 Fighters to watch
John Salter
Chris 'The Chronic' Conolley
Marcus 'The Bruiser' Brimage
Adrian 'Guard Yo Grill' Miles
Andy Roberts
I wouldn't want to see any ufc fighters 'loose', to be honest.
---
NYBA Champ @ 170!
BEST EVA!
Featherweight

Join Date: Feb 2007
Posts: 1,152
Quote:
Originally Posted by pauly_j
I wouldn't want to see any ufc fighters 'loose', to be honest.
i would love to see kos get destroyed
Featherweight

Join Date: Feb 2007
Posts: 1,152
I never tire of seeing Hughes lose.

And if Diego loses, I want it to be Karo who gives it to him. Gives it to him...the loss, not because he's loose.
to be honest i want to see Josh Koscheck get smoked by somebody...o wait he's going to at UFC 74 nvm.....
I think KOS needs a good beating...
---
You can't have everything. Where would you put it?
Favorite Fighters:

Chuck Liddell
Rich Franklin
Diego Sanchez
In No Order
Josh Koscheck (one dimensional, big mouth, blanket St Pierre will destroy him)
Tito Ortiz (Big Mouth, Big Ego, Huge Prick Nuff Said)
Matt Hughes (i'd really like him to sustain life threatening injuries when he fight GSP again. I hate Hughes Arrogant and disrespectful and totally full of himself and he isn't even that good)
Bisping (undefeated, Big Ego, Messy Fighting Style, Hasn't beaten anyody good... Shogun anyone
Kendal Grove (Lanky, Tito Clone and needs to be taken out we don't need another Ortiz after he retires)
Brian Stann (His nickname is "All American" good for him but that's pretty in your face and not needed)
Charles Bennett (Big Mouth, Disrespectful)
Manny Gamburyan (Big Ego, Even Bigger Mouth, Sings annoying songs, full of himself, needs to be KO'd)
Takanori Gomi (nothing reall bothers me about him but he needs to lose sometime) (i'm not counting diaz)
Rory Singer (Incredibly Annoying on the Reality Show, The Dumbest Nickname i've seen)
---
Last edited by southpaw447; 06-11-2007 at

11:07 PM

.
Currently Active Users Viewing This Thread: 1

(0 members and 1 guests)
Posting Rules

You may post new threads

You may post replies

You may not post attachments

You may not edit your posts

---

HTML code is Off

---