View Poll Results

: Who would you have no chance against?

Chuck Liddell
9
25.00%
Tim Sylvia
5
13.89%
Randy Couture
6
16.67%
Antoino Rodrigo Nogueira
10
27.78%
other
6
16.67%
Voters: 36. You may not vote on this poll
CC.. I'd rather not have the broken ribs and all.
Quote:
Originally Posted by green teabagger
nog for me, i am fine getting hit in the face and against tim i think i would be able to hold my own enough to get in close ( i have to deal with guys his size anyways). Nog would just tear me apart right now, cro cop too.
Also had to go with Nog.
He has a crazy reach advantage over me, and if I tried to take him down Id be in a world of trouble
Liddell, nog or crocop.
Liddell and crocop, cos I wouldn'tbe able to get them dwon, Nog cos even if I did I'd be ****ed.
I am confident I could get sylvia down.....I know hed beat the shit outta me, but I think I would definatley be able to take him down at least once.
I had to take Randy on this one.

I'm a pretty big guy myself (6'4'' 215lbs) and I've seen what he can do to guys that are much bigger then me. At least in a fight with Chuck or Tim, They'll KYTFO in a few minutes. Chuck would wear you down for 5 rds with mean ass GnP and over hand rights.
---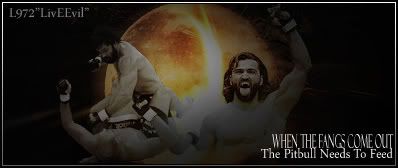 I'd say Rampage or Hughes.

But they wouldn't be in my weight class. In my weight i'd say Royce Gracie because he's still listed on the roster for some reason and would most likely make it look like UFC 1 in the ring against me.
---
"We are all one." - Genki Sudo
Gotta go with Chuck just because of the sheer KO punch power he has, I'm pretty decent in the stand-up but I think all Chuck would have to do is catch me with one and I'm hitting canvas
---
You can't have everything. Where would you put it?
Favorite Fighters:

Chuck Liddell
Rich Franklin
Diego Sanchez
Im pretty sure I could beat up Danny Abidadi Wayne Weems and Andy Wang.
Users Awaiting Email Confirmation
Join Date: Sep 2006
Location: In your mom's box
Posts: 663
I am a huge guy, but I have no BJJ training so I would have to say Nog would be my kryptonite.
I would have to go with Randy he is a really big guy and would just slam me all the time and dominated me for the full 5 rounds.
Currently Active Users Viewing This Thread: 1

(0 members and 1 guests)
Posting Rules

You may post new threads

You may post replies

You may not post attachments

You may not edit your posts

---

HTML code is Off

---