diego sanchez always thanking jesus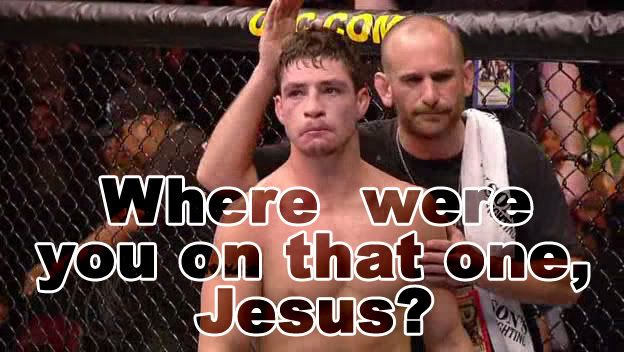 MUW HAHAHAAAAAAAAA
---
Mac Danzig and his bird feeder once visited the Virgin Islands. They are now The Islands.
Mac Danzig can kill two fighters with one bird feeder.
Superman owns a pair of Mac Danzig bird feeder pajamas.
Bantamweight
Join Date: Apr 2007
Posts: 731
Funny as hell.
---
Brock Lesnar will be the #1 ranked fighter, and will be best fighter ever.

Favorite fighters:

HW = Lesnar
LHW = Arona / RAMPAGE
MW = Filho
WW = Koscheck
LW = Ruediger
Tito - I hate his voice and I hate him banging on about the troops.
Kendal Grove - Twat.
Andy Wang - Total idiot.
Matt Hughs - I don't like his chin and I think he's a bit of a cock.
Quote:
Originally Posted by WouldLuv2FightU
Same here. I can see why some people think Rashad is annoying but it doesn't bother me.

Also, add KenFlo, and Heath Herring.
ye i agree, Florian is a douchebag. Ever since i first saw him on tuf i have always hated him.
Randy Couture... jk

Chris Leben + Ed Herman + K.Grove


Honorable Mention - Vitor Belfort's hot n coldness fighting and his post fight speeches.
A recurring phenomenon in TUF is that one guy who thinks his the best fighter in the world ever and talks about it over and over again, until he gets defeated in his first fight:

Season 1: Chris Leben

Season 2: Melvin Guillard

Season 3: Ed Herman (differs from the others by actually having some fighting in him to back up his words, but makes it up by being the most annoying of them all)

Season 4: Nobody, because they were all fighters trying to make a comeback, and therefore were more in touch with their skills.

Season 5: Marlon Simms

All those four guys are right there at the top. The only TUF competitor that is as annoying as them would be Gabe Reudiger.
MATT HUGHES what a punk!! the pioneer of lay&pray always says hes going to stand-up then he gits hit and goes for the take-down. arrogant , pompuss ass.
rashad evans- a close second
Kenny Florian has always really given me the shi ts.
---
phil baroni i cant stand him I HATE HIS VOICE HIS LOOKS HIS ATTITUDE, i like to watch him fight and get beat, wot was it he used to say after winning every fight i am the best AM THE ******* BEST
Currently Active Users Viewing This Thread: 1

(0 members and 1 guests)
Posting Rules

You may post new threads

You may post replies

You may not post attachments

You may not edit your posts

---

HTML code is Off

---