Don Frye or Mirko CroCop. I think they would hurt me really badly
---
What a stud
Quote:
The power of Aleks, his small baby and pimp hardcore dogs has granted you useful insight, my friend.
MMA Fanatic
Join Date: Jun 2007
Posts: 5
Quote:
Originally Posted by Iron Daisy06
Sylvia would most likely punch your head into the nose bleed seats.
All Tim Silvia would do is back up and give you a kick every now and again with a few punches per round. He isn't a good fighter IMO. He is one of the most boring fights you'll ever watch. That's why he was always an under card. If you are a title holder you shouldn't be an under card, what?, three or four times in a row??? He is a big guy who can take a punch, which gives him a lot of potential, but potential doesn't win matches, bring home the bacon, or make you a good fighter!!!
So I assume you have only watched two maybe three of his fights?
---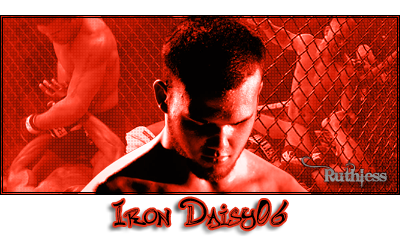 Fighters to watch
John Salter
Chris 'The Chronic' Conolley
Marcus 'The Bruiser' Brimage
Adrian 'Guard Yo Grill' Miles
Andy Roberts
Homicidal Maniac

Join Date: Apr 2007
Location: Houston, Texas
Posts: 6,193
Like I said in many other threads he was the champ it was not his responcibility to bring the fight for he had everything to lose. like Iron daisy posted, Have you seen more of his fights then his last few? If you have not watch all a fighters fights before you start trying to insult him. I love your logic though he is not a great fighter hmmmm that is why he was the Champ in the biggest MMA orginization.

To get back on topic though I would have to go with Ken shamrock, Randy or Bj for I like them and when I fight it helps me to be able to see at least something I dont liek in the person standing across from me. Grappling and subs are my strong suit so I would have to not wantto go up agains people with strong takedown defence exp. Iceman
---
Over! 2,000,000 Views!
MMA Fanatic
Join Date: Aug 2007
Posts: 4
Heavyweight - Randy Couture
L. Heavyweight- Dan Henderson
Middleweight- Anderson Silva
Welterweight- Matt Hughes
Lightweight- Sean Sherk
Featherweight- my clone
Bantaweight- my clone with an eating disorder
Currently Active Users Viewing This Thread: 1

(0 members and 1 guests)
Posting Rules

You may post new threads

You may post replies

You may not post attachments

You may not edit your posts

---

HTML code is Off

---