Undertaker wins by… gogoplata
---
I
Quote:
nfluence of MMA has reached the world of professional wrestling at it's biggest stage.

This past Sunday night at Wrestlemania XXIV, the Undertaker beat Edge with a gogoplata submission.

Formerly known as the "Dead Man" and "American Badass", the Undertaker has evolved his character into a mixed martial arts fighter of sorts. This includes wearing MMA style gloves and using submissions a lot more often in his matches.

To put this in perspective: Vince MacMahon scripted a Brazilian Jiu Jitsu submission as the finisher for the biggest WWE event of the year.

Somewhere Lou Thesz is rolling over in his grave.
Source-
http://fiveouncesofpain.com/2008/03/...-by-gogoplata/
---
.:H.O.F. Inductee:.
.:GFX-H.O.F. Inductee:.
I have never wanted to go find Vince and beat him to death with a metal bat as much as I do now.

**** Fake Wrestling.
---
If a law is unjust, a man is not only right to disobey it, he is obligated to do so. ~ Thomas Jefferson
Sig by D.P.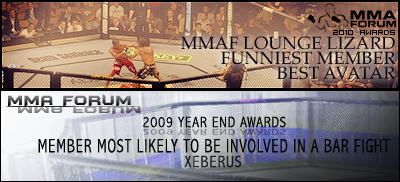 -I came|I saw|I failed-
Join Date: Mar 2007
Location: The plazzVan
Posts: 9,734
Omg, how has this not come up sooner?!

He's been winning most of his latest fights via an extremely sloppy GoGo.

Apparantly hes a BIG MMA fan and is trying to incorporate ALOT of MMA into his act. Good for him I guess.
i dont like wrestling but! i watched Wmania 24 cuz Floyd was there lol

i knew that he would win , but i was still pissed .... i mean in real life c'mon he will never beat big show ...
There was a video awhile back of him doing this wierd gogo. Kinda suprising to see.
---
My prediction went to Sh!t...
Amazing, a paper caught onto something that has been posted here months ago. This kind of old news that 'Taker has been doing this. He even put a triangle choke on soemone during a match, and this was months ago.

Gotta keep it fresh where every 'wrestling' move has been used.

Not to mention, even before 'Taker went on this trip CM Punk during his ECW debut said he was a BJJ practitioner...
MMA fighter

Join Date: Oct 2006
Location: West Carrollton, Ohio
Posts: 2,575
??????? That is all I can think of. How did the WWE crowd react? I can imagine that they were all like what the hell was that?
He's actually been using Triangle Chokes for a couple of years now, I haven't watched this past year but it doesn't suprise me. I remember he and Kurt Angle had a match where he had Kurt in a Triangle, that was probably in 2005, I was open mouthed at the time.
---
Fedor fights I want to see..
Fedor vs. Josh Barnett
Fedor vs. Randy Couture
Fedor vs. Tim Sylvia -
DEMOLISHED
Fedor vs. Andrei Arlovski -
DEMOLISHED
hmmmmm, i wonder how many become reality..
2007
Who gives a shit? Pro-wrestling was doing arm bars and chokes long before MMA was around, not to mention Taker has been doing this move for quite sometime.

TNA is the lame promotion doing fake MMA matches, if you should be pissed it's at that once great promotion turned to one steamy pile of dog turd.
---

This Time ... Break It!
FFL Season 3: 11th Place
Quinton Jackson vs. TBA
Gesias Calvancante vs. TBA
Fabricio Werdum vs. TBA
Thales Leites vs. Anderson Silva
Currently Active Users Viewing This Thread: 1

(0 members and 1 guests)
Posting Rules

You may post new threads

You may post replies

You may not post attachments

You may not edit your posts

---

HTML code is Off

---