You also have to look at how small he was. He would probably barely make the 145 class. And I wouldn't put him in the actor who is playing a fighter role. He's no Steven Segal. Dude was fighting all his life, and developed Jeet Kun Do, which some MMA fighters are trained in. His style didn't have time to evolve, and no telling how his ground game could have been. All in all, he was a good fighter.
Quote:
BRUCE LEE WOULD KILL EVERYONE
its simple math guys

if Bruce lee > Chuck Norris
and Chuck Norris > All mma fighters
then Bruce Lee > fedor

and the purple hippos fly on thursday mornings for eggs benedict


f*ck..my head exploded.

(the only thing that would save bruce lee is that hed probly fight at 135 ...and he'd still get crunched)
a ya hahahahaahah he beat chuck norris end thread he must b a super god,
o wait i think i remember a chuck norris fact about that explaining it
Banned
Join Date: Feb 2008
Posts: 385
Bruce Lee would have his shut pushed back in.
Seeing as how the 135 pound weight class is most likely not as competative, he could do well, against some styles.
He'd probably get schooled by a wrestler or BJJ guy though
135 = murder by miguell torress
145 = murder by uriha faber
155 = subbmission by BJ
Ok got to admit am a huge lee fan, he got me into martial arts. But, clearly if you take Bruce straight from 1973 and chucked him in the mma ring/octagon he would probly get smashed - taken down and schooled. But think if bruce had been alive he would have loved the whole mma scene, he always talking about no styles, learn everything etc.
Also give him some time (you know if he wasnt dead) - no denying he had incredible speed and natural ability, crazy flexibility and a great work ethic and from the tales of his street fighting fighting days he could take a punch too. Just a thought that had bruce been alive today and had the benefits of the evolution of mma behind him he probly would have done pretty good in mma if he trained in it.
Know this subject been done a few times but still like to put 2 cents in.
You guys kidding. While the Brazilians had vale tudo he espoused not having a set style as he understood very well that in a street fight anything goes. By learning only one style one limits him or herself. Thus the origin of MMA fighting. "It's the art of fighting without fighting." He arm bars his opponent in "Enter The Dragon" albeit a movie, but nonetheless a demonstration of the ground game at it's earliest stages. As an anecdote he would get challenged by the extras and needless to say he never lost. He reps with arms curls at 72 pounds and weighs 140 - 150lbs. He's in the 100% percentile. You have no idea what kind of a training methods he implemented. Go pick up one of his books and try it. You'll be crying and that's back in the 70's almost forty years ago. Workout regimen that's still being implemented today; dieting, weight lifting, strength training, boxing, sparring, and major conditioning.

GSP, Jerome Le Banner (why he fights south paw even though he's right handed), and Anderson Silva among probably many other MMA fighters idolize him and consider him their hero. It's the discipline, philosophy, and work ethic that separates him from many other martial artists. I was gonna let this thread go, but felt it's only right to back up someone who's put so much into the world of martial arts.

It's disgusting to compare. How about you take the MMA fighters of today with no knowledge or martial arts background and fight him in 73. They'd get tooled any day of the week. You can't beat what you can't catch. Based on his striking he could take out a good number of modern day MMA fighters. Implement a ground game which would probably take him no time to learn and you will have the ultimate fighter at his respective weight class. No doubt about it.

It's because of him that MMA exists.
Quote:
for the record, Bruce Lee would get killed.
Quoted
For
Truth
---
If a law is unjust, a man is not only right to disobey it, he is obligated to do so. ~ Thomas Jefferson
Sig by D.P.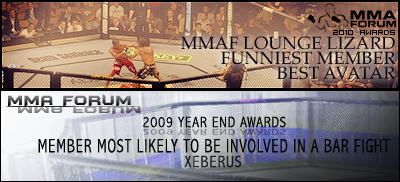 Quote:
145 = murder by uriha faber
...
LOL
---
- A single death is a tragedy, a million deaths is a statistic.
- It's better to die on your feet than to live on your knees.

See you Space Cowboy...
Currently Active Users Viewing This Thread: 1

(0 members and 1 guests)
Posting Rules

You may post new threads

You may post replies

You may not post attachments

You may not edit your posts

---

HTML code is Off

---