RNC - the fighting mans lullaby

Join Date: Sep 2008
Location: Somewhere between Hell and Earth
Posts: 1,849
2 fights i'd like to see. . .
---
Joe Rogan vs Dana White.
Mike Goldberg vs Bruce Buffer.
I'd personally pay alot of money to see these fights.
Rogan vs White would be fight of the year!
You think these bouts could ever happen? Either for added revenue or for charity?
I think theres alot of people who would tune in to see Dana get choked out!
International Stalker
Join Date: Nov 2006
Location: San Diego
Posts: 5,203
Mike Goldberg vs Bruce Buffer has zero chance basically. But Dana White almost boxed Tito Ortiz so I think... maybe? Albeit extremely unlikely.
---
Credit to ThaMuffinMan
Rangers rule
Join Date: Nov 2007
Location: Glasgow, Scotland
Posts: 2,330
we would be more likely to see bruce vs joe as the have a bjj black belt and brown belt respectively. Also Dana looks to big for Joe but Mike is a solid dude. He is also a hockey player so he maybe be able to brawl with Dana.
---

Thanks to Plazz for the awesome sig
http://www.mmaforum.com/hall-fame/47...-plazzman.html
Show him respect
Curitiba Food and Liquor

Join Date: Dec 2006
Location: NY
Posts: 16,176
Ed O'Neill v. Dana.
---

Sig Credit to Toxic

MMA Fanatic
Join Date: Aug 2008
Posts: 32
I, personally, would love to see the Morgan Freeman look-a-like take on the Geraldo Rivera look-a-like
Joe Rogan via submission round 1.

Buffer via submission round 1.

I'd like to see Rogan/Buffer though, 2 BJJ BB against each other, I'd pay for that.
I can see joe totally taking dana down and choking him out like a bitch then holding the RNC for like 5sec after the ref calls it.

goldy vs buffer... man i see buffer being an old guy... but a baller none the less and goldy getting brutally KOed. I would pay to see that, brutal KO of goldy. Imagine the seconds while hes out cold. Silence. no dumbass comments or failed explanations with failhumor.
---
If a law is unjust, a man is not only right to disobey it, he is obligated to do so. ~ Thomas Jefferson
Sig by D.P.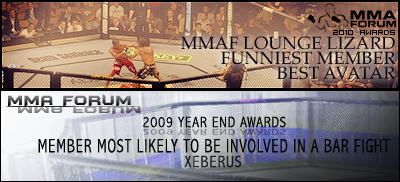 Currently Active Users Viewing This Thread: 1

(0 members and 1 guests)
Posting Rules

You may post new threads

You may post replies

You may not post attachments

You may not edit your posts

---

HTML code is Off

---