Quote:
How are we really going to know who the winner is??? I don't see how Goldie and Rogan would even be able to call the fight!

Rogan: Wow, That huge beast just took him down and started throwing hammerfists!!!

Goldie: Which one Joe?

Rogan: Ummm, the one with the dick on his chest.
you forgot the Gameplanning and Mental Game advantages to the Gorilla Aaron.


Gorilla, TKO VIA ripping lesnar limb from limb.
Middleweight
Join Date: Jul 2008
Location: Iowa
Posts: 2,615
I heard this was the main event at UFC 100 Lesnar vs Jungle Beast
---
Grinding Gears
I know how this will go down.

Both dudes enter the cage.

Brock: Dad, is that you?

Gorilla throws poop and Steve Mazagatti calls it a TKO.
---

-I came|I saw|I failed-
Join Date: Mar 2007
Location: The plazzVan
Posts: 9,734
Seems pretty even to me
VS.
---
For all those people who lost their lives and livelihoods in the Victorian bushfires my thoughts are with you!
errm this thread is disgusting....peta will never allow the abuse of an innocent animal. What has brock done to deserve such contempt
---
Sonnen On the spider
"If he wants to leave the division, leave the sport, who cares, Beat it, nobody tunes in to watch him anyways, and his little fake 'I don't speak English.
Curitiba Food and Liquor

Join Date: Dec 2006
Location: NY
Posts: 16,176
This is all theoretical meng.
Although animals definitely do know what pain is,
they have no concept of restraint in the face of a perceived threat, so gorilla by TKO.
---

Sig Credit to Toxic

I have got to go with gorilla by arm bar we all know to expect striking from the gorilla so he will suprise us with his sub skills
Also Brocks sub defences are weak so theres a good chance that ape might tear his arm off.
---
Favourite Fighters:
1) Nick Diaz
2) Fedor Emelianenko
3) Chuck Liddell
4) Forrest Griffin
5) Tyson Griffin
Uh oh! It looks like the gorilla might end up training at the Jackson Camp!!!
---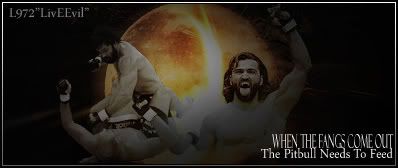 Currently Active Users Viewing This Thread: 1

(0 members and 1 guests)
Posting Rules

You may post new threads

You may post replies

You may not post attachments

You may not edit your posts

---

HTML code is Off

---