Even Mandy Moore can TKO the Iceman
---
skip to 2:15



seems like anyone can beat chuck nowadays
Hahaha just saw that somewhere else and was gonna post it on here, Chuck's facial expressions are priceless in this video clip
hahahahahaha excellent
---
If a law is unjust, a man is not only right to disobey it, he is obligated to do so. ~ Thomas Jefferson
Sig by D.P.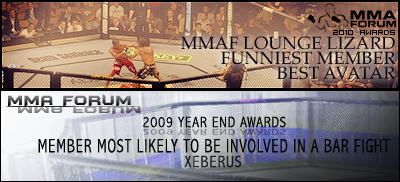 No wonder Chuck is losing fights. He's spending too much time making shitty music videos
You said it, that song sucks, hope she didn't write it since she like Ufc, gotta like her.
Flyweight
Join Date: Aug 2008
Location: Minnesota
Posts: 214
What a totally pointless video. The video hardly makes sense in itself, and the song doesnt offer much either.

Like someone else said, this is probably just an exploitation of Mandy Moores fondness for MMA, with the record company seeing opportunities to appeal to the MMA market.

Stupid idea, stupid song, stupid video... Mandy Moore on the other hand, stupidly hot.
I felt embarassed for mankind after watching this video.
---
Always Supporting Fighters That Fight to Finish or be Finished

Edson Barboza
Jose Aldo
Conor McGregor
Nate Diaz
Donald Cerrone
Gabriel Gonzaga
Brandon Thatch

That song had a cool beat. Just emailed it to my friends Mike, Josh, Chad. They all agreed it is a song we can all dance to.
Currently Active Users Viewing This Thread: 1

(0 members and 1 guests)
Posting Rules

You may post new threads

You may post replies

You may not post attachments

You may not edit your posts

---

HTML code is Off

---