OMG 5 million a fight, he would be nuts not to take that.
---
Bantamweight
Join Date: Jan 2009
Posts: 963
Quote:
OMG 5 million a fight, he would be nuts not to take that.
6 five million dollar fights**
Well the UFC will still make loads more off of him thats for certain.
---
Damn. I gotta wait til this is confirmed but... Goddamn seems like the UFC is practically getting on their knees for fedor. I hope he signs, otherwise his management are bastards.
---
If a law is unjust, a man is not only right to disobey it, he is obligated to do so. ~ Thomas Jefferson
Sig by D.P.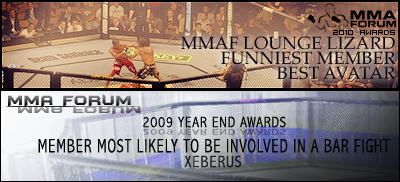 Featherweight
Join Date: Jul 2009
Posts: 1,158
i dont think the 5 mill a fight is true. it will be a lot but not that much. and i do not know what is keeping him out of the ufc. if he does not want to fight the best out there his rank will go down. and he won't be worth as much. if he is being blackmailed it seems like a really big risk to threaten someone as well known as pound for pound top fighter. Why would the mob want him out of the ufc? if they were using his name or something then wouldn't they get more money there? i dont know. i am not that good at knowing what the mob wants.
Amatuer
Join Date: Aug 2007
Posts: 148
Maybe Fedor knows that if he signs with the UFC it's basically game over for all the other MMA organizations. If he does sign with the UFC, 6 fights later if he's not happy and wants to leave where can he leave to? Yeah he'll be a bigger name but maybe that won't be enough to help the last few standing MMA organizations left by then. I don't know this is just a theory. Fedor knows his value and what he can do for the smaller organizations like StrikeForce who are in need of a big name imo. I thought Tito Ortiz was gonna be that big name but obviously not now.

We'll see I don't think I'm right but I could very well see Fedor moving to StrikeForce and having some of his fights aired on CBS and helping StrikeForce get big. Not big enough to compete with the UFC obviously but maybe big enough to where some fighters have another successful organization to turn to
Politicking and negotiations. That's a very reasonable offer. Really wonder how instrumental Vadim was for Fedor's career. Does Vadim need Fedor or Fedor need Vadim. Think we all know the answer.
Has anyone given any thought to the fact that it might not be about the money.He already makes a boatload of dough through the fights and sponsors,granted not that kind of money.The Russian mob is serious business,and I will certainly leave it at that.Could be his management halting at the deal,but I would assume Fedor has the final say.
I hope it is not because he fears Lesnar.I hate Lesnar with the passion,but I considered this,probably off key there.
Maybe he does not care about his pound for pound status in our eyes.He will go down as one of the best mma heavyweights regardless.The UFC heavyweight division needs all the talent it can get.
Man if that was really the offer then Fedor is dumb as shit sorry.

dp >.>
---
Last edited by coldcall420; 07-30-2009 at

09:48 AM

.
Featherweight
Join Date: Jul 2009
Posts: 1,158
i guess it would be smart to just live off the rest of his carreer un beaten against opponents that are not the best. we all want fedor to fight in the ufc but that does not mean its the smartest thing he can do if he just wants to have an undefeated record.
Currently Active Users Viewing This Thread: 1

(0 members and 1 guests)
Posting Rules

You may post new threads

You may post replies

You may not post attachments

You may not edit your posts

---

HTML code is Off

---