---
"I tried to punch him, and he literally moved his head out of the way and looked at me like I was stupid for doing It"
- Forest Griffin

NPFFL: Alistair Overeem, Fedor Emelianenko, Shane Carwin, Chris Leben
---
Quote:
Amen.

Also:

A. Silva (purely for the OMG factor)
[insert any name here] Diaz
Dana White (c'mon, this would be crazy)
Garcia (he's probably still win somehow)
haha Garcia would only win if it was by UD against an Asian
---
"Haters gonna hate."-Your Mom.
vladimir putin
live tv, getting brutally eyes and mouth open KOed from a small woman.
---
If a law is unjust, a man is not only right to disobey it, he is obligated to do so. ~ Thomas Jefferson
Sig by D.P.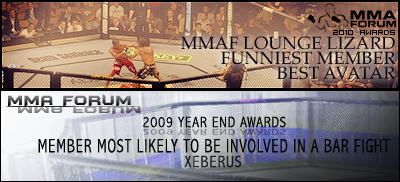 MMA Fanatic
Join Date: Sep 2010
Posts: 36
Cheat Sonnen, nobody can stand him, he's really a bad person, plus, by fighting a champion who broked a rib 3 days before the fight, he made some people beleive that he's good....lol if you can't beat a guy whith a broken rib you have no business in mma.
Join Date: Oct 2009
Location: UK... Where the sun never shines.
Posts: 11,553
in the ufc: Nate Marquardt, Gray Maynard and probably Machida (sorry bobby
)
outside the UFC: Nick Diaz, Gilbert Melendez and Fedor (by the reem just to stir stuff up).
Nick Diaz, preferably by Mayhem. Within the UFC, it's gotta be Lyoto Machida.
---
Proudly Supporting
Dan Hardy
Conor McGregor
Michael Bisping
Donald Cerrone
Demetrious Johnson
Joe Lauzon
Nick Diaz

Thiago Silva
GSP (strictly for laughs though)
Sonnen
Kos
I would of said GSP before I saw him on TUF.


Cain Velasquez, Thiago Silva, Frankie Edgar, Josh Koscheck, and Chris Leben... Oh wait thats right.
Flyweight
Join Date: Oct 2009
Posts: 240
Nick Diaz, Fedor, Tito, GSP
#1 (by a mile) Jon Fitch
#2 Chael Sonnen
#3 Cain Velasquez
#4 Shogun
#5 James Toney

I never want to see Matt Lindland KO'd again....that shit makes me feel sick.
---
Member of the Anti-Fitching Society. Stop Fitching and Fitchery in MMA now!
-------FREE CHARLIE Z-------
FFL
'Roudy' Ronda Rousey, Fabricio Werdum, Vyacheslav Vasilevsky, Eric Koch, Alexander Sarnovsky
Currently Active Users Viewing This Thread: 1

(0 members and 1 guests)
Posting Rules

You may post new threads

You may post replies

You may not post attachments

You may not edit your posts

---

HTML code is Off

---