Flyweight
Join Date: Feb 2009
Posts: 285
Zuffa buys Bellator
---
Quote:
Too early ur the fool
lol u def got me though. My jaw dropped when I read the thread title and I quickly clicked it
---
Always Supporting Fighters That Fight to Finish or be Finished

Edson Barboza
Jose Aldo
Conor McGregor
Nate Diaz
Donald Cerrone
Gabriel Gonzaga
Brandon Thatch

Yeah too early for my time zone but ya got me. I was like "WTF!!! Will there be no other orgs left!?!?!?".
---
Quote:
This isn't April Fools. Dana White already mentioned this on MMA Live. Zuffa put in a bid on Bellator during the SF purchase. Looks like it went through. Good post!
UFC has a monopoly now.
Too early but ya you still got me lol.
---
mad props: Toxic
got me to xD
---
If a law is unjust, a man is not only right to disobey it, he is obligated to do so. ~ Thomas Jefferson
Sig by D.P.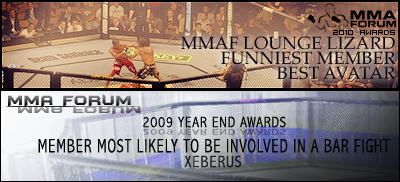 Super Heavyweight

Join Date: Sep 2008
Posts: 4,364
The moment I saw this thread I called BS but never even thought about April Fools. Figured it was going to be some mmabay crap lol.
ahahahah u got me this was very good .... I was like no way then entered the thread very funny
---
My Top 10:
Fedor
Henderson
GSP
Lyoto Machida
Aleks E
Josh Barnett
Big Nog
BJ Penn
Anderson Silva
Cro Cop Musosi and bada hari
It wouldnt have mattered even if it wasnt april 1st, the title is inconceivable.For the simple fact bellator hasnt had one landmark moment, has no real stars/assets and is hard to find
---
To Live is 2 suffer, 2 survive? well that is 2 find meaning in the suffering
Currently Active Users Viewing This Thread: 1

(0 members and 1 guests)
Posting Rules

You may post new threads

You may post replies

You may not post attachments

You may not edit your posts

---

HTML code is Off

---