Fanfiction: Dana cleans house.
---
Quote:
In stunning turn of events, the UFC has announced that the two cameramen working UFC 133, the director of the event and all production assistants, have been fired en masse from the company.
The UFC President told reporters "I am so ******* pissed! How could two cameramen that work for me not see a guy's weenie flopping all over the octagon? There are a million things a cameraman could show, why did they not catch that? As for the director, you are sitting in a ******* booth with 12 ******* monitors and you mean to tell me you ******* miss someone's schlong flopping out of his shorts? ******* unbelievable!"
Mr White was reacting to an incident during Dennis Hallman's fight last night, where due to Hallman's decision to wear European style briefs, his nether regions were briefly exposed during the fight.
Said Mr. White, 'I was sitting there at ringside, and I just could not ******* take my eyes of the shorts. It was ******* embarrassing, even though I was so excited, I almost had trouble ******* breathing. You just can't have a grown man's muscular thighs on ******* display like that!"
A minor situation occurred during White's announcement of the firings when a reporter from the Sacramento Bee asked if the scant few who actually saw the .06 second exposure might have been those perhaps overly preoccupied with Hallman's groin area. Mr. White immediately fired the reporter from covering any future UFC events and vowed to call in the reporters managers for additional questioning.
On his way out the door, the UFC President fired a male security guard who was wearing a lavender shirt.
http://www.bloodyelbow.com/2011/8/7/...hallman-fiasco
Well... i dont know if i would fire the camera men for not seeing something like that BUT i certainly wont complain that Dana did.
---
Yet again Dana is showing he has too much power and fuelling his haters with more ammunition.

Dana "Mr. Unprofessional / Hasty decision" White
---
Bisping Fan extraordinaire
Velasquez will be back
MMA Fanatic
Join Date: Aug 2011
Posts: 20
5+ people losing thier job cause of some speedos?
damn, that's a mighty speedo.
yeah, that's fake.
---

Fedor, Mir, Lytle, Serra, Hendo, Chuck, Minowaman, Maynard, Forrest, Hunt
Pickett, Cerrone, Matt Brown, Bisping, Weidman, Barnett, Lawler


Welterweight
Join Date: Jul 2008
Posts: 2,230
Am I the only one who realizes the article is satirical? Kind of sad...
This is that easy to spot type of satire, can't believe some of you bought it.
Super Heavyweight

Join Date: Jan 2010
Location: Latvia
Posts: 4,108
Quote:
This is that easy to spot type of satire, can't believe some of you bought it.
At first I just read the first quote, which seemed pretty believable. Then I found out it was fake and read the whole thing. Second part of it was pretty ridiculous.
Do i even need to say that i was caught out lmao

I also didnt read the part with the lavender shirt security , I feel very embarrassed hahaha
---
Bisping Fan extraordinaire
Velasquez will be back
That's one of the funniest things I've ever read. Especially since seeing Dana's vlog and seeing Tito walk up and 2 hand grasp Dana's ass and Dana not being jumpy but laughing.. I dunno... I'm not saying he's gay... is he?
---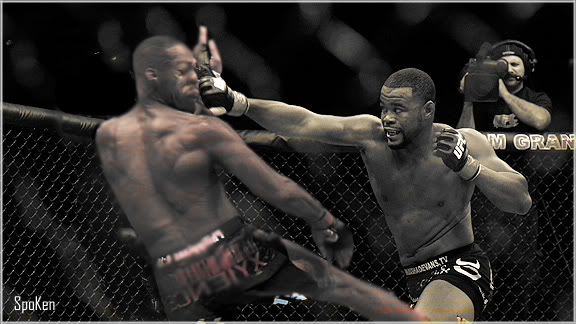 Sweet sig by Life B EZ
I feel like I get paid way to much money, but not enough -Nick Diaz
Currently Active Users Viewing This Thread: 1

(0 members and 1 guests)
Posting Rules

You may post new threads

You may post replies

You may not post attachments

You may not edit your posts

---

HTML code is Off

---