Join Date: Apr 2010
Location: Gods country
Posts: 4,524
Horn hunting at its finest.
Found dead outside a major town in Missourri. Non typical record.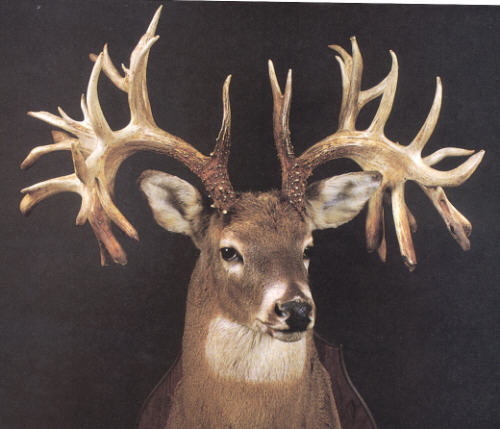 Typical Bow record buck.
You guys wouldn't be excited to bring that beast down?
Quote:
You said in your previous post it wasn't necessary. Now you're calling me an idiot for agreeing with you and saying it wasn't necessary? That seems pretty weird.

Also, why do you make assumptions about the background of people who don't agree with you about something? I've never lived in a city in my life, multiple members of my family farm and hunt, and I know quite a bit about it.

Also, I've been defending hunting, both for sport and food, as not being any worse than eating meat this entire thread. So I don't understand why you're so upset.
Not everything is directed towards you. My point is eating deer meat = saving money, which to most of this country is very important, especially those with big families. So though they don't necessarily "Need" to save the money, but its definitely a very big temptation when it comes to providing for your family and trying to give them a better life.
Quote:
You guys wouldn't be excited to bring that beast down?
Naa man I would honestly feel terrible if I shot that. I have lived in suburbia my entire life. I don't know a single person that owns a gun. I do not know a single person that hunts. It just is not part of culture where I am from.
Like I said in other posts I would gladly hunt if the meat were to be eaten. That actually sounds very fun and noble to me. But I would not be interested in trophies.
---
mad props: Toxic
Look up Ted Nugent. He is usually on point with his outlook on wildlife and getting kids out of the house and in the woods.
---
Credit to M.C !!
Meh, I think it's a matter of respecting differing outlooks. I can appreciate that there are those of you who might not see hunting as that big of a deal. On the other hand, I tend to believe that anyone who could actually shoot a deer is a real slime ball, but again, it all comes down to different strokes. I personally don't see the joy in killing a living thing, and I don't see why anyone would feel the need to jump on me because of it. Legal or not, I'd feel like a proper heel accidentally running over a squirrel, let alone shooting an animal. Don't even get me started on the Asians.

That said, Hughes is a country bumpkin. It's what they do.
Quote:
Look up Ted Nugent. He is usually on point with his outlook on wildlife and getting kids out of the house and in the woods.
Haha @ Ted Nugent. The old POS has a fenced in hunting area so animals can't even ******* escape. His outlook is horrible, and he's a coward. Even his music blows.
Banned
Join Date: Aug 2010
Location: Idaho
Posts: 2,848
I honestly don't understand the gratification that people get from hunting. I stand by what I said in my first post in this thread, but how people can get excited about killing a defenseless animal like a Deer makes ZERO sense to me.
Lightweight
Join Date: Jul 2008
Location: Flint,Michigan
Posts: 1,806
I can't believe so many people are hating on Matt for doing what he gets paid to do. That's right PAID to do. He's paid by the Browning arms company to do hunts like that. I've even seen him on a couple of their ads and shows. And I assure you that cat wasn't a defenseless animal let me tell you. Have you ever had to deal with a pissed off barn cat? If you have, multiply that by five and you wouldn't want to be locked in a room with a cat like that. And one last thing I live in Michigan and even a good majority of us don't like Ted Nugent. His whack'em and stack'em mentality makes all hunters look bad. Most people I know that hunt hunt only animals to augment their grocery budget or because they are farmers and have to conserve their land. A lot of hunting I wouldn't exactly support, but to say that no one should be able to hunt or that they should be looked down upon for doing so is ignorant at best.
Quote:
I drowned 3 cats today, nobody wanted them.
That makes you happy does it?
Currently Active Users Viewing This Thread: 1

(0 members and 1 guests)
Posting Rules

You may post new threads

You may post replies

You may not post attachments

You may not edit your posts

---

HTML code is Off

---