Join Date: Oct 2009
Location: Ohio
Posts: 2,719
Quote:
Natural selection has nothing to with that, although it is a common misconception. Natural selection is a key concept in evolution that refers to biological traits either becoming more or less common in an organism based on their functionality.

Like the first creature to develop primitive lungs, for example.

Plus, I am pretty sure hunting stopped being a challenge when we invented the snipe rifle, so i'm not really we need to determine if we are dominant or not over a tiny cat.

What you are thinking of is called "survival of the fittest".
Bold 1. That "tiny cat" could easily kill him with its claws and teeth if properly motivated to do so. Those are its natural bodily componnets which make it a dominant predator. Humans do not possess such equipment, however, humans do possess intellect and instinctive rapid adaptivity (also aposeable thumbs
). Which is why they have guns. If you take away a humans gun, you must also take away a bobcat's claws and fangs.
Bold 2. You're correct, I've sadly made a fool of myself by not remembering that distinction.
The fact is the only way to remain "the fittest" is to ensure nothing anywhere as sufficient numbers to challenge that claim, even accidentally.
---
Sig courtesy of that photo-matic magician limba
Quote:
I went out the way that I fight. I went out on my shield. That's it. Done. --Chuck Liddell
Quote:
My goal is to end my opponent --Carlos Condit
Matt Hughes would dominate that bobcat in a fight.
---
Sig credit: MC
~ Lifetime Membership sponsored by RustyRenegade ~
Im not much of a hunter. I've shot at deer before, as I say, not much of a hunter. I've skinned a few deer that others have killed, cooked and ate venison before. But if I don't plan on eating it I usually won't shoot it. Growing up my parents told me I had to eat anything I killed. I think that is generally a good policy. If I saw a wild bob cat prowling about my place, I'd probably kill it. Mostly because it's dangerous and there are children around. It's the same with an aggressive dog really.
Quote:
If you have ever eaten at KFC or Burger King then you are a cruel disgusting hateful inhumane POS asshole.

You need to learn to respect the animals you eat like Hunters do.

It's wrong and immoral.. But it's just so damn tasty
for the record, matt Hughes is still a dick
[/QUOTE]
---
If a law is unjust, a man is not only right to disobey it, he is obligated to do so. ~ Thomas Jefferson
Sig by D.P.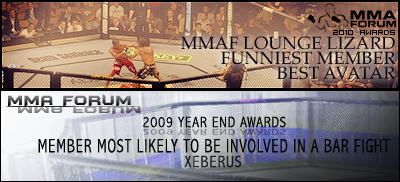 ---
Last edited by xeberus; 01-05-2012 at

04:12 PM

.
Quote:
Matt Hughes would dominate that bobcat in a fight.
K1 Hughes by front kick to the face.
That is true Squirrelfighter, I can't deny that a tool for a human is the equivalent to claws/teeth for a cat.
LOL XebI remember that picture from the "you laugh you lose thread. effing funny as hell.
Quote:
K1 Hughes by front kick to the face.
pfff I bet the Bobcat makes him tap.
---
mad props: Toxic

Join Date: Mar 2010
Location: NC.
Posts: 9,815
Quote:
Matt Hughes would dominate that bobcat in a fight.
Matt would have to keep the fight standing.
You do not want to be in a Bobcats guard.
---
Quote:
Bobcats aren't hunted for food. They are hunted to control the population because they are a nuisance and expense to farmers. Their fur is valuable. Ever own any fur?

I only showed the videos and mentioned KFC to make my point that except for the true vegetarians (how many we got?) this thread is full of hypocritical nancy boys.

dead is dead. Killing is killing. That Bobcat has no preference on whether he is eaten or skinned for his pelt or stuffed.

I used to hunt. Then I spent awhile hunting with a camera. I don't like to kill anything anymore it's just an excuse to be in the woods. But it is part of our nature as much as liking sex. Some people feel the urge to hunt as much as you feel the urge to breed. It comes from the same place and one is as wrong as the other.

People who express shock and disgust at this before they go to the fridge and make a cold cut sandwich are funny.

And maybe a little sheltered.
I cerainly agree that there are double standards and hypocracy, but then again you can almost point to any thing in this world and find some hypocracy in it.
Don't get me wrong, I don't think hunting is wrong, quite the contrary it is part of our history and we are in some ways wired to do it. My main issue is when people do it just for the sake of killing and not for any other purpose. The legal part I could care less about. Just because something is legal doesn't make it just, just like if something is illegal it doesn't make unjust.
Nature is without competitor when talking about ecobalance and if there are too many of a particular species that means that it isn't a matter of ecology but rather a matter of overextension. Man has every right to defend himself and his family and if an animal is encroaching on his property and threatens his and their safety then he has the right to kill the animal. That doesn't contradict my first statement however.
If you asked me if I eat a burger from time to time, I would say yes. Am I aware that these animals go through hell to make it into our supermarket. You bet. It's caused me to become vegetarian twice. Once when I was 12 and shocked at a documentary that my father showed me (didn't eat for 3 months until the smells of flesh got the best of me). And the second time when I was 23 and became a vegetarian for 2 years before my girlfriend threatened to leave me because she was worried about my failing health (I was one of those bad vegetarians, didn't eat right) and losing 20 pounds.
Do I feel guilty, yeah sometimes. Am I better than Hughes in that respect, probably not. At least I'm honest.
BTW I wasn't trying to single you out, just commented on the killing just for entertainment part.
---
"Let them see that their words can cut you, and you'll never be free of the mockery. If they want to give you a name, take it, make it your own. Then they can't hurt you with it anymore." - Tyrion Lannister
W/e, shooting an animal for the sake of 'fun' is wrong in my book.
If they are overpopulated it's because something else is inbalanced and causing it. so this shit is not black and white, but i wont go there in this thread.

Besides, vegan food ftw
Like alot have also said in this thread, bobcats are over populated. Im going to throw out some basic points.
1. Hunting is LEGAL.
a. There are hunting seasons, and you know why there is hunting seasons? So animals don't go extinct and dont overpopulate. (yes people do hunt out of season but it is illegal and it is a federal offense. They can take your truck, your gun, your licenses, a few grand as a fine, and you can also serve jail time.
2. "Trophy sport."
a. Just because its mostly a trophy sport does NOT mean there is something wrong with it. Like said in the above post, there is seasons and hunting out of season is wrong because ur no longer keeping the animals from over populating. Who cares if you enjoy doing it for fun if your actually helping the ecosystem?
3. Eating your kills
a. Most hunters actually do eat their kills. Or the sell the meat to someone who will eat them.
Quote:
This. I don't have to agree with anything just because it is legal. I certainly feel that hunting for food is not only a good practice but a very noble one as well. Trophy hunting is for guys with small dicks. Unless you use a sword and bow and arrow.
Alot of people do use "bow and arrow". There is an early season for bow and arrow and it's i guess you could say, more challenging.
And by the way, whoever said "hunting is easy" completely knows nothing about the sport. Yeah u see squirrels all the time by your house, u might seem some ducks, deer, a random bobcat/coyote, but when these animals are in the wild, it's completely different. They are VERY skidish. If a deer catches your scent, it won't come by you. If u dont have a dog and your squirrel hunting, you better hope u got a scope on your .22 or its gone if you miss. These animals also have naturally camouflage which makes them harder to find. Hunting by no means is "easy". It takes alot of patience, a good shot, and something most of you aren't man enough to do on a daily basis, getting up before the sun comes up so you can get ur spot before someone else does (Not saying you guys don't, it's just the generation we are living in doesn't get up before 10 in the morning unless they have to and by all means try to get a job that doesnt involve them having to get up early. Lazy scums. It hasn't always been like that.)
EDIT : If it wasn't for "hunting" the human race would not be here. So stop yer bitchin, wether its trophy hunting or not, its in our blood and there is NOTHING wrong with legally hunting.
Can't wait to properly respond to this when in not on my BB, we all know Hughes is a religious ****head who lacks simple empathy for any creature, so not surprised at anything the heehaw yokel does.
Currently Active Users Viewing This Thread: 1

(0 members and 1 guests)
Posting Rules

You may post new threads

You may post replies

You may not post attachments

You may not edit your posts

---

HTML code is Off

---