Join Date: Jun 2009
Posts: 20,898
***MMAF All Access Interview*** --Week 7-- G_Land
---
[OFFICIAL] MMAF ALL ACCESS THREAD
What's going on MMAF! We are here for Week 7 of MMAf All Access. This week we have a great member with us. He has some fights under his belt, and he is a member of the United States Armed forces.
-Week 7-
(G_Land interviewed by HitOrGetHit)
G_Land
I'll eat your children
What made you become a fan of MMA?
I became a fan after I joined the Marine Corps and got my first taste of grappling. I just fell in love with every part of it. I always knew it was there I just never had any exposure to it.
Who is your favorite fighter or fighters in MMA and why?
Chris Leban,Matt Hughes,Brock Lesnar, Forrest Griffin. Chris impressed me with his willingness to brawl and quick turn arounds for fights. Matt Hughes is an icon to me. I know a lot of people don't like him but you can't take away from his talent. Brock is a freak that seems talor made for this sport. Forrest is a great fighter and writes some awesome books. Haha
Is there any fighters that you dislike?
Mir always seems to rub me the wrong way. He is VERY knowledgeable about the sport and it seems to go to his head. The Diaz brothers also….need I explain? Haha
What about outside of MMA? (Boxer, K-1, etc.)
Roy Jones Jr in his prime. Even now he is awesome to watch but back in the day he was amazing. Plus he does a lot for local boxing and also MMA.
Do you think that RJJ could still beat Anderson Silva in a boxing match?
No doubt! I think RJJ takes it. I'm not sure the exact out come but RJJ pulls the win off.
Which style of Martial Arts do you like to see the most?
BJJ by far. Any time a 155 lb guy can tap a 200 lb guy (me) out I have mad respect for it.
What is your favorite submission?
Peruvian Neck Tie!!!! It takes a little time to set up but when it gets sunk in it is nasty!!!
Who do you think is the best MMA BJJ practitioner?
Shinya Aoki. He has some weak stand up but it he gets an arm,neck,leg...hell anything, odds are he is taking it home with him. He hasnt showed to many subs in MMA (10) I think but some of his work will make you cringe!!
What was the first MMA fight that you saw? If you can remember.
My memory is not that good. Haha
How about a favorite Kun Fu Movie?
Jet Li's Fearless and Hero are great movies.
Who wins a fight out of Jackie Chan and Jet Li?
Jet Li easy!!!
Now tell me what your favorite fight or fights are.
Wow. Forrest/Bonner to begin with. I remember watching that fight with my jaw on the floor.
If you could have one dream fight to see in MMA, who would be in it? Where would it be? What ref would be in the cage?
Wow thats tough. I have asked myself this a hundred times. And for some reason I would like to see John Jones and Anderson Silva. Here in the South East. I dont care where I know there was a recent one in Tenn. But I would like one in Alabama Mississippi or Florida........And Big John...I miss him being in the octagon.
What is your favorite woman's MMA fight?
Sara Kaufman and Roxanne Modafferi….That slam was awesome.
Speaking of women, if you had to choose between Gina Carano and Arianny Celeste, who would it be?
Gina Carano no question. That woman is sexy beyond all belief and she could have my back when I run my mouth in a bar.
What is your favorite MMA organization?
UFC was the first organization I followed but I try to even things out and be open minded to all the orgs.
How about your favorite weight class to watch?
LHW. But Mw is a close second.
Do you think Jon Jones will one day hold the belt in the LHW division?
100 % yes. That guy has so much talent its coming out of his ears! I really hope we see him in a title fight in the near future.
What is more impressive, a first round (T)KO, a first round submission, or a 5 round dominating decision?
That KO is always fun to watch but the Submission gets me just as excited. But if I could choose I would rather have a close 5 round brawl that goes to the mat and back up. But with that come the decision that people will argue with.
Ok G_Land, what is your name?
Josh Garland….AKA G_Land
How did you stumble across this wonderful place that if MMAForum?
I actually found this site looking for TUF spoilers at work……..The search was "Kimbo TUF spoilers"……Hey it took me here so yeah lol
What is your favorite part about this forum?
I gotta say the members. There are so many people here with so much knowledge. You can have discussions here without getting your head bit off.
What do you do for a living?
I am in the Army.
What do you do in the Army?
I have a few jobs. But currently I am an admin clerk. But I am also a mechanic,supply clerk, and Infantryman. I try to be as flexable as possible...job security...
Where do you see yourself in 5 years?
I hope to still be in the Army if not I would love to be on my way to being a High School football coach.
If you had just 24 hours to live, how would you occupy your time?
Hmmm I would say bye to my family then find Justin Bieber and punch him in the mouth.
If you could have one car no matter what the cost, what would it be?
Bugattii Veyron.
Well that is all of the time that we have for this week MMAF. Thank you for reading and thank G_Land for taking the time to do this with us. I believe he accepts +rep so don't hold back! Keep an eye out for MMAF All Access in your inbox as you could be next!
If I had 1.4 mil to burn it would be on that!!!
Nice interview, G_land is one of MMAF's finest!
---

"There are three things all wise men fear: the sea in storm, a night with no moon, and the anger of a gentle man."
Join Date: Oct 2009
Location: UK... Where the sun never shines.
Posts: 11,557
yeah, great interview.
G_Land...MMAF's No.2 troll hunter..... After me
nice interview
cheers
---
If a law is unjust, a man is not only right to disobey it, he is obligated to do so. ~ Thomas Jefferson
Sig by D.P.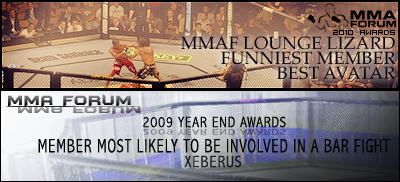 Awesome interview both of you guys, HOGH shoulda asked him 'The car or Gina' though.
---
Quote:
Awesome interview both of you guys, HOGH shoulda asked him 'The car or Gina' though.
Hmmmmmmm thats is indeed a tough question.......I would have to take Gina....NO WAIT THE CAR......SHIT!!!!!!!
Quote:
Awesome interview both of you guys, HOGH shoulda asked him 'The car or Gina' though.
NO compromise!!
Gina in the car
!!!
Another awesome interview HOGH!
G_Land is awesome!
---
.
BELIEVE!
gina on the hood of that car...man there would be nothing else to live for! btw.... G_land...thank you...because you are in the military.

good call on punching beiber in the face but if it didnt take to much time could you punch kayne west in the face too. i hate that guy
---
????
---
Last edited by sillywillybubba; 11-01-2010 at

05:14 PM

. Reason: spelling and stuff
Currently Active Users Viewing This Thread: 1

(0 members and 1 guests)
Posting Rules

You may post new threads

You may post replies

You may not post attachments

You may not edit your posts

---

HTML code is Off

---