Join Date: Jun 2009
Posts: 20,858
***MMAF All Access Interview*** --March-- Limba
---
[OFFICIAL] MMAF ALL ACCESS THREAD
Hey hey hey everyone! This is HitOrGetHit back with this months MMAF All Access interview. I looked long and hard throughout March to find the member to fill the pages this month and I found him. He is a very active an awesome member. Awesome in the GFX Showroom. That's right, I m talking about the one and only Limba!
-Issue #12-
(Limba interviewed by HitOrGetHit)
Limba
"The Wise One"
My man Limba! How has life been?
My man HIT! Welcome to my crib! Make yourself comfortable….
Life's good, but…could be better - definitely. I'm in a process of taking a big step in my life - not marriage or kids - lol. I'm looking to leave Romania for a while and try to experiment living and working abroad. Probably the UK. I need this change. Hopefully it's gonna happen in the next 5-6 weeks. And who knows – maybe I'm gonna meet one of the british MMAF members. Soojooko sounds fascinating!
………….
BTW, you just missed Brittney, she left like 5 minutes ago
Yeah, I know. She is waiting in the car so let's get moving!
Oooohh, did she ask you to drive her to the mall and you accepted?! You're such a good friend Hit!
I weould have driven her myslef, but i am busy making you that "Team Alpha Male" Sig...
Thanks for "taking care" of her for me!
I'll do the best sig, just for you!
Haha Sounds good man. I look forward to it. *Yells out of the window* Hey babe... err... Brittney, Limba is making my sig now!
I know you watched Jones/Shogun. What was going through your head when you saw Jones dominating the way he was?
Happy thoughts!
To be honest, this is how I thought the fight would turn out.
I was impressed from the beginning. That flying knee right from the start was beautiful. It rocked Shogun and it sent a signal at the same time.
I was surprised by the way Jones controlled the fight on the feet to be honest. I knew his long reach will be a big factor, but I loved his ring movement and all those short kicks to Shogun's knees also. I believe some people don't realise how important those kicks were – kept Shogun at distance and disrupted his movement in the ring.
I loved the spinning elbow and I loved the front kick. He was extremely close to mimicking Anderson.
And of course – his ground game.
I love his ability to take people down and control them. I believe, without a doubt, Jones has one of the best ground games in the UFC: he controls his opponents extremely well and his Ground-and-Pound is one of the best in the game.
Needs some work on his BJJ, but hey….he is still very young in this sport and he is still learning. Also, he lacked a bit of cardio, but he was working hard in the fight and, afterall, it was his second fight in 6 weeks after 5 months of intense training. It's understandable.
The way he is improving, he could be one of the best Mixed Martial Artists ever..
And I wanna mention Shogun also. I have big respect for the guy. I believe he will be back. He has a lot of great fights left in him.
Were you nervous before the fight began?
Yes. Of course. I would lie if I'd say "NO". I'm a big fan and I really wanted him to win this fight…This way my one year old prediction would have come true! Kidding.
But once the fight started and seeing Jones fight the way he did, I was OK.
Who do you think presents he biggest challenge for Jones at 205?
Interesting question. My answer is – I really don't know.
We've seen him dispose of strong wrestlers.
We've seen him dispose world class strikers./muay-thai fighters.
We'se seen him control BJJ black-belts, with relatice ease.
So…I really don't know.
But, in no specific order I would say:
I've heard a lot of people saying the prototype fighter for beating Jones should be a guy with fast ring movement, great striking, great TDD and good TDs of his own, a great BJJ, strong GnP and a BIG gas tank.
Honestly – that fighter doesn't exist yet.
But, I believe the following fighters would pose the biggest threats for him. In no specific order: Machida, Evans, Phil Davis (after 3-4 more fights, not now), Thiago Silva ……..and a more active Shogun.
How do you think Jones would stack up against the UFC HW's?
It's hard to say, but i don't think he would be TOP 5 at this moment.
Jones isn't big enough for the HW division atm.
I've had some debates on this subject with some members here.
After the Shogun fight, some said he should move up to HW because he is too big and strong for the LHW division. Wich is absurd.
The smallest HW is Cro Cop, but he pretty much retired. The next in line is Struve at 240+.
I've read an article about Jones, in wich his strength and conditioning coach talks about Jones' weight. The heaviest he's ever been was 232 lbs.
Before Bader he started the cut from 222 lbs.
Rampage, Forrest, Bonnar, Bader, Thiago Silva are bigger than Jones.
I don't even bother comparing him to the HWs honestly, although i believe he would beat half of them.
But Jones wants to win titles and be the best and at this moment, he can't do that at HW. So it's LHW for him for now.
Cain just said he would love to fight Jones and i believe him, but i also think he meant this Jones, the LHW...In 3-4 years time, it's gonna be a different story.
I see Jones doing the same thing Overeem did, but not so drastically.
A 265 lbs Jones sounds TERRIFYING for the others.
Ok on to a new topic, how do you feel about Zuffa purchasing Strikeforce?
I think it's great for the sport, for the fighters involved, for the fans, for the sponsors – for everyone.
It can only help MMA evolve even more.
I wish the best fighters from Strikeforce would make the jump to the UFC as soon as possible, especially in the HW division – they need the SF guys.
Do you think they will ever completely merge? Or will they stay seperate?
I really don't know.
ZUFFA can be very surprising.
Look at what they did with WEC. They purchased them in 2006 and kept the WEC brand going for 4 years until they decided to merge the WEC with the UFC. Wich I think was a good move.
So…I don't know.
On a short term, I believe ZUFFA will keep the SF brand alive, until fans get used to it's new image. And once they create a strong brand – ZUFFA style – maybe they will merge.
On a long term, I think ZUFFA could/should use SF to allow young, talented fighters to make a name for themselves. And I believe some of the UFC vets will join that SF, to test these young kids.
Something like the UFC being the premiere division: championship fights, big fights, big money, big sponsors, big rewards…all that stuff.
And SF could be the second division: less money, less fame.
And they could run a promotion-relegation system to keep the fighters motivated. You win you're in the UFC. You lose, you fight in SF.
But ZUFFA can surprise you at any time, so I guess we will see.
Let's talk about the fighters now.

Who do you think is the best MMA striker in the world?
Anderson Silva or Junior dos Santos.
What about MMA wrestler?
Mr. Jon Jones - so far, he took everyone down and he made it look easy. And nobody was able to take him down.
And he's fought a lot of accomplished wrestlers: Hamill, Matyushenko. Bader – and he made them look like amateurs..
Special mentions to Sonnen and GSP.
And MMA grappler?
Demian Maia.
Special mentions to: Rousimar Palhares, Shinya Aoki and Roger Gracie.
What is your #1 dream fight to see?
Right now: Jon Jones vs Anderson Silva
Special mention: Jose Aldo vs BJ Penn.
Ok, now lets get to know you as a person.
What is your name bud?
Sergiu-Calin Farcas.
Do you train in any martial arts?
No. I tried some boxing, but nothing serious. But, I would love to learn some BJJ.
If i had the current mindset 10 years ago, I would definitely try somekind of martial arts.
What are your hobbies?
Watching MMA of course.
Also: going on nature trips, working out, partying, cars…and other things - stuff that makes me enjoy life….I wanna try skydiving.
What do you do for a living?
A lot of things. LOL I've been bouncing through jobs a lot: from office work, to salesman, to receptionist. But, at this moment, let's say I provide my services for restaurants: waiter and/or bartender. I've been doing this for the last 2 years, but I wanna change it.
What is your dream career?
Lamborghini or Ferrari test driver. I just love Supercars!
Either this or ….professional judge at "Hot Girls Chocolate Pudding Fighting Championship".
If there isn't such an organisation yet, they should definitely create one.
Where do you see yourself in 5 years?
Running my own business: a fitness gym. It's something I thought about for some time, but never had the money to get it started.
Ooooh yes….and married to Brittney. Don't worry, I'm not gonna ask her to quit her UFC ring girl job…LOL
Is there anything else you would like to say before I take off with Brittney to "Tha Mall"?
She loves it in the backseat, not in the front seat!
...I'm talking about "driving" of course.
I will keep that in mind!
Well that's all the time we have this time MMAF. Please thank Limba for having myself and the All Access crew over. And be on the lookout for next months issue of MMAf All Access.
---
Another great interview Hit!! Good luck on your travels Limba!! Keep the States in mind!!
---
Credit to M.C !!
Banned
Join Date: Oct 2009
Posts: 7,811
Have been waiting for this one
gonna read it tonight!
Join Date: Oct 2009
Location: UK... Where the sun never shines.
Posts: 11,553
nice job, both of you.
Now, who do i have to sleep with to get this gig? hahaha
Quote:
nice job, both of you.
Now, who do i have to sleep with to get this gig? hahaha
I did it in week 2 or something like that and i had to take on all of the staff members.
Join Date: Oct 2009
Location: UK... Where the sun never shines.
Posts: 11,553
Quote:
I did it in week 2 or something like that and i had to take on the of the staff members.
AGAIN?! Ah maaaaaaan
That was a cool and informative interview, if limba ever gets his number 2 dream job I hope we get the same kind of details from him that we do about Jon Jones.
---
whew! go limba its your birthday, not really, party anyways
---
If a law is unjust, a man is not only right to disobey it, he is obligated to do so. ~ Thomas Jefferson
Sig by D.P.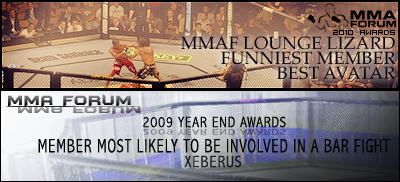 Currently Active Users Viewing This Thread: 1

(0 members and 1 guests)
Posting Rules

You may post new threads

You may post replies

You may not post attachments

You may not edit your posts

---

HTML code is Off

---