MMA Fanatic
Join Date: Mar 2008
Location: Fayetteville, NC
Posts: 26
I think Thai takes it over TKD go to youtube and type in muay thai vs. tKD and check out the video. I would send the link but i cbf
Amatuer
Join Date: Jul 2007
Posts: 129
Its funny, TKD practitioners always pride themselves on their kicks... and you'd assume they would have good kicks cause thats basically what the style revolves around.
But in reality muay thai kicks are so much more powerful, TKD'ers always cock their leg and flick their feet at people, MT you gotta swing your leg with your body likes its a 30 pound baseball bat.
MT vs. TKD
http://www.youtube.com/watch?v=xEGE7tvgd3o
and these two are just ******* legendary:
this is how u kick
http://www.youtube.com/watch?v=K_gx2QPcJT4
and this is how u punch
http://www.youtube.com/watch?v=DvKJbLeAHFY
is anyone has links to TKD guys with this much power id like to see it
I respect all martial arts. But bullshit aside, muay thai is a way better technique for fighting. If you want to look pretty and brag to your friends about belts and wanna look tough, then TKD is what you want.
---
If a law is unjust, a man is not only right to disobey it, he is obligated to do so. ~ Thomas Jefferson
Sig by D.P.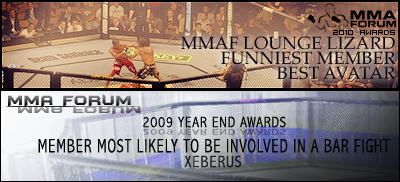 TKD is good...and i thinki could take a good MT guy
MMA Fanatic
Join Date: Mar 2008
Location: Fayetteville, NC
Posts: 26
It's possible but Muay thai definately has the upper hand.
---
Last edited by Mickeyc_708; 03-10-2008 at

08:32 AM

.
Curitiba Food and Liquor

Join Date: Dec 2006
Location: NY
Posts: 16,176
We don't cock the leg and flip our feet. For example with a roundhouse kick it is crucial that you pivot on your supporting foot and turn your hip b/c that's where the power in the kick comes from. Any tkd practitioners that you see doing fancy kicks that aren't very effective has been competing in too many tournaments against sport karate types. in my classes there is an insane amount of conditioning so that we have powerful kicks, and I condition (cardio)on my own as well so I don't gas after throwing a; kick like I mean it.
---

Sig Credit to Toxic

Outta My Head
Join Date: May 2006
Location: Paramount, CA
Posts: 1,220
Quote:
The thing is it is hard to find a good instructor.
I believe that would apply to
all
martial arts, not just TKD.
---
It doesn't matter if you agree or disagree
... As long as I don't bore you and I spark a moment of thought,
my goal is achieved
.
Queng leon queng tigre ecu tacacut, queca pa? - Pampangan Mandarigma Motto

a good martial artist never argues that his style is better than someone else thats why I dont like gracie

they are both good neither has the upper hand they are just good in teaching different areas to help you develop as a fighter.
---
"The fat man flies at midnight"
My friend is a 2nd degree black belt in TKD and my other friends believe he is like the second coming of Jesus or something. They think my wrestling/shotokan karate/slight Muay Thai skills couldn't even touch him.

I publicly challenged him to a sparring match and never got an answer. If it were to ever happen though, I'm pretty sure I could win since I see TKD as only useful in TKD competition. The different variety of kicks look cool, but what effectiveness does that have on actual fights?
Quote:
I'm having an arguement with a guy on youtube
That's your problem...
On a more serious note, *everyone* thinks their style is the best. Nobody is going to say "Yeah, I'm a blackbelt in foo-shu chin-chun, but it really does suck."
Currently Active Users Viewing This Thread: 1

(0 members and 1 guests)
Posting Rules

You may post new threads

You may post replies

You may not post attachments

You may not edit your posts

---

HTML code is Off

---