TKD sparring competitions are based around speed. A TKD practitioner who brings TKD sparring to a fight is the guy who gets KTFO'd. This is the majority of TKD practitioners as most train for the enjoyment of sparring competition and feel that it directly applies to fighting.

IronMan is exactly correct in his statements that most TKD fighters striking isn't a threat and just an opening for takedowns. Most TKD fighters never train takedown defense.

The whole premise of TKD striking is that your throw your attacks with so much force that your opponent has to either block or avoid them entirely. Most TKD practitioners don't understand this concept at all.

IronMan is also exactly correct that you have to establish the credibility of your striking quickly in a fight. Dancing and pawing works if you are looking to win on points, but typically not if you are trying to finish a fight. These are the fighters that are winning right up until they get KTFO'd.

Most TKD fighters in my experience get real hesitant in a fight where they know they can be clinched or taken down. A hesitant striker is one just surviving until their KTFO arrives.

TKD striking can be every bit as effective as Sanshou or Muay Thai provided the appropriate translation takes place between sparring and fighting and the TKD practitioner trains for fighting. High level TKD fully employs eight point+ striking like every other credible striking art.

TKD speed training or 'flicking' kicks and punches is a total failure in fighting. Punching power is magnified by your triceps, shoulders, back, hips, legs, ankles, even your toes. End discussion. Scientific fact. Stated previously by IronMan and linked from credible sources.

Strikes are measured in terms of force, typically PSI (Pounds per Square Inch)

Acceleration = Final Velocity - (Initial Velocity/Time)
Force = Mass X Acceleration.
Power = Force X Displacement

TKD striking based on speed means that TKD has the potential to generate large amounts of force. What most practitioners do not understand is how to turn that force into power. Transferring the energy of a strike into your opponent is what powerful striking is all about. This is accomplished via kinetic linking.

Striking is about energy transferrence!

A trained, aggressive, confident, experienced, and powerful TKD practitioner should be very respected in the striking game.

I'm 6'6" and weight 235lbs. If I need to train power it is difficult for me to find someone to hold heavy pads for my kicks. Through heavy pads I can still cause significant bruising. I could never use that training for TKD sparring competitions but the fact remains that I'm still using TKD fighting technique and not TKD sparring technique. I've caused verbal submission multiple times from leg kicks and even blocked higher kicks. Rarely are my kicks caught because people don't want to risk a broken arm or ribs. Every kick I throw I throw with 100% commitment and with full awareness that I could taken down. If my kick is caught I'm ready to jump into guard or attempt a throw/submission. I would rather throw with intent and pay the costs than go through the motions of any strike.

TKD is not a hesitant art, period. The art provides the necessary tools for MMA and fighting in general. Most TKD practitioners get destroyed because their first mistake takes them almost entirely out of their game. I've seen BJJ practitions who aren't familiar with MMA grappling get destroyed because they drop for a knee bar and get their head pounded in because they aren't familiar with punching in competition. I've seen multiple wrestlers taken out of their element when they take a knee to the face or end up in a guillotine. Every art still needs to be adapted to MMA but the pure striking arts typically have less of a margin for error and are highly criticized because mistakes are typically more costly and more obvious.

This was a bit of a ramble as I'm working and didn't take the time to format my post.
Curitiba Food and Liquor

Join Date: Dec 2006
Location: NY
Posts: 16,176
It was extremely interesting and helpful nevertheless. You made an effort to break up your wall of text and I greatly enjoyed reading it.
---

Sig Credit to Toxic

Fieos you just sound like a huge baller.
6'6" 235lbs? shit dude you are huge and you are a huge threat as a anything (to me). im 5'9" 165ish, your personal experiences are probably sort of biased as to how effective TKD is. If you're in any kind of good shape you could probably kick the shit out of most people just because of your size. However your post was nothing but quality
---
If a law is unjust, a man is not only right to disobey it, he is obligated to do so. ~ Thomas Jefferson
Sig by D.P.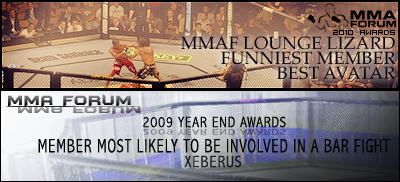 MMA Fanatic
Join Date: Jul 2009
Location: Dojo of the Dragon
Posts: 24
I have more "knowledge"(those who saw my intro thread will get it) over TKD than Muay Thai, but the brutality of Muay Thai really shocked me while I was practicing TKD.

The brutality I've seen in UFC, Pride, WEC and HDnet had me going, but I couldn't just forget about TKD.

Taekwondo concentrates on self-defense, focus, and confidence. It has been modernized eversince it was born.

Muay Thai is based off of a more ancient style "Muay Boran" and it's techniques build up the body, and it can easily be used to end a fight quickly and efficiently.

My pick is Muay Thai because it is a "Straight Forward" art and it relies on simple yet extremely effective tactics to get your opponent down.

Taekwondo is still an art that I favour..but Muay Thai is more dominant.
MMA Fanatic
Join Date: Oct 2009
Location: Akron
Posts: 13
Muay Thai hands down. I'm a second degree black belt in Tae Kwon Do and it does virtually nothing in a fight. The only benefit I got from it was that I have better than average back kicks and roundhouse kicks, and kicks aren't even fun to use in a street fight lol. But other than that it does not even compare.
Muay Thay
---
~Bedrock
Join Date: Jun 2009
Posts: 20,893
I learned a lot from this thread
Curitiba Food and Liquor

Join Date: Dec 2006
Location: NY
Posts: 16,176
Any martial art, properly adapted in class, will help you on the street IMO. All teachers of a martial art should be conscious of this.
---

Sig Credit to Toxic

Uhg.. I read most of this thread.. I got tired of hearing the same things as I read it backwards..

About kicks.
At my TKD school we have been taught to twist our hips, though I heard someone say most TKD schools don't teach that. I assumed they did.. At the TKD place I attend, I train under a fifth dan. He is governed under a seventh dan I believe. I was taught when you choose to kick "through" a target your leg stays on the target as you're trying to go through. Lets say the target is a persons head. This causes the power transfered from your leg to go into the head but as your leg stays connected to the head some of the energy from your kick will bounce back into your leg thus causing a less powerful kick. So he taught us when you make that strong contact you snap your leg back so the power will have nowhere to escape. (this was explained to me when I was young, around 10 years old so I may have misinterpreted some things) I have no clue where this logic comes from or if it can/has been proven. This is simply something I was taught. As for using your hips when you kick, it's the same principle as when punching. The energy you gather moves fromm the ground up the legs and as your hips snap the energy forces itself out through the chosen contact point(the foot). I have heard some people complain that TKD kicks are useless. This simply is not true, the kick have been developed and are effective. The fact is not everyone does a said kick the same way therefore the kick isn't preformed as it was made to. I feel like an idiot explain these things since it feels like everyone says I'm wrong.

About History.
I also heard someone say something about how since TKD is one of the newest martial arts it isn't something that derives from martial arts that use "brutality". Early Tae Kwon Do was developed from the ancient art of Hwa Rang do which is an extremely "brutal" martial art. Most serious fights being only to the death it focuses on punches, kicks, locks, and fatal techniques. I don't know much more about this so I won't go to deeply into it.


I will save more talk about this when I hear more and/or get responses. xD
I respect each and every martial art equally. In my eyes all martial arts are equal in their own respects, the only difference is the people who practice them.

By the way, I am a first degree, second level in TKD with 5-7years of experience(not saying thats alot).
---
Last edited by Mookie; 10-23-2009 at

05:45 PM

.
Mookie, thanks for contributing. I tried to explain energy transferrence and kinetic linking earlier in the thread. Good TKD instructors definitely train to kick 'through' a target. As to rechambering (pulling back) a solid kick to increase the power.... I'll have to look into that. I don't quickly see the value from a physics perspective. The main reason we train people to rechamber their kicks is for a couple reasons.

1.) To avoid having the limb captured and/or losing your balance. No point in landing a solid kick only to be taken down or falling down.

2.) Loading up for another round (Pretty much exclusive for sparring and Van Damme movies) I've scored a lot of points with double/triple kicks in sparring tournaments but that is something pretty foolish to try in a fight.

If you can find more reasoning for rechambering please contribute them. If I come up with some more ideas I'll share them as well.
Didnt look through this entire thread (its really long) but i always had a lot more fun doing TKD then i did doing Muay Thai. For practical applications I would go with Muay Thai, but sparring with TKD techniques is just more entertaing to do for me.
Currently Active Users Viewing This Thread: 1

(0 members and 1 guests)
Posting Rules

You may post new threads

You may post replies

You may not post attachments

You may not edit your posts

---

HTML code is Off

---