well.. depends..

this is a basic and i mean basic assessment of shape.. can you do 30 push-ups in a row, 50 sit-ups, run a mile in under 8minutes?

if you can id say go ahead and start at the gym. if not, work on bridging the gap on those three things i mentioned. as i said it is a basic measurement of fitness.
---
If a law is unjust, a man is not only right to disobey it, he is obligated to do so. ~ Thomas Jefferson
Sig by D.P.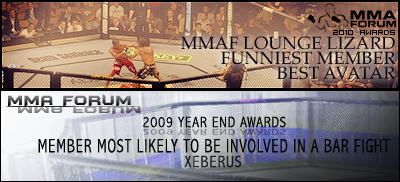 Yesterday, I decided to go along to Griphouse MMA gym, and take the Muay Thai Fundamentals ( beginners ) class. It was the best fun ever, and I can already tell I'm hooked !

I'm 29 and have played sports at high level most of my life. Only thing is, I have relied on natural skills in those sports the past 8 odd years. I haven't been fit since I was 22 maybe. I'm not overweight at all, 6'0 and stocky, but I smoke cigarettes and a fair amount of ganja.

Anyways, this was a one hour class and we did....

15 odd mins of starjumps, burpees, push ups and general stretches.

Split into two's - one taking pads, the other gloves...

30 seconds doing a right cross ( left for me as I'm southpaw )
30 seconds right ( again left for me, just reverse everything) bodykick
30 seconds right cross, right bodykick combo
10 push ups ( burpees for dude on pads )
Repeat all of the above again.

Flat on your toes, elbows on ground, keep knees off ground for 1 min..

30 seconds right cross, left hook
30 seconds left bodykick
30 seconds right cross, left hook, left bodykick
10 push ups ( burpees for dude on pads )
Repeat this all again.

Switch with the person on pads, and do all the same again.

Some more cardio.

Split into groups of six and each group take a heavy bag.
3 do 1/2 combos as fast as possible for 15 secs
3 do burpees for 15 secs, then both groups switch
Did this maybe 10 times on bag for each group of three

Some cardio to finish.


I was ****ed !! But it was amazing fun, and whilst I felt like I was gonna vomit for a while, I just stuck through it and got to the end. I didn't quite manage all the push ups, cardio stuff, in between all the bag work and pad work, but it felt great being pushed to the limit of my fitness.

Infact, it was only really the push ups, burpees that got me as my arms were just totally dead. The more mental stuff like going out flat on your toes and elbows and keeping knees off of the ground I was fine with. I took the pads first out of my group of two and my arms were feeling dead before I even got to strike, but it was a great feeling striking, I really felt like my left cross and left bodykicks had a lot of power !

Even though I'm having trouble moving my arms freely today, I'll be going back tomorrow for the 90 min fundamentals class.
---
Total Tottenham
http://www.totaltottenham.com/forum/index.php
Supporting - Machida, Edgar, Mitrione, Pickett, Cruickshank, Wiman, Lauzon, Falcao, Belcher, Korean Zombie, Palhares, Hendricks
Retirees - Lytle, BJ Penn, Hackney,
---
Last edited by GlasgowKiss; 06-08-2011 at

07:41 AM

.
Currently Active Users Viewing This Thread: 1

(0 members and 1 guests)
Posting Rules

You may post new threads

You may post replies

You may not post attachments

You may not edit your posts

---

HTML code is Off

---