Banned
Join Date: Oct 2009
Posts: 973
MMA Attack 05.11.2011.Komentarz PL.DVBRip.XviD-TRODAT
---
MMA Attack 05.11.2011.Komentarz PL.DVBRip.XviD-TRODAT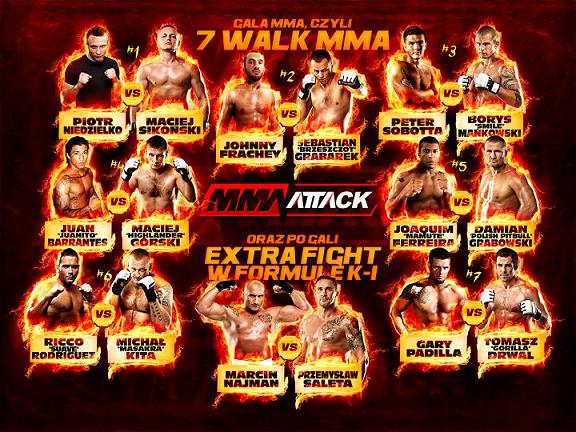 Quote:
ALL GALA
Format: AVI at 1.506 Kb / s
Length: 1,85 GB for 2h 55 min. 47s 80ms
Video # 0: MPEG-4 Visual at 1367 Kb / s
Aspect: 640 x 352 (1.818) at 25.000 fps
Audio # 0: MPEG Audio at 128 Kb / s
Infos: 2 channels, 48.0 KHz
ATTACK Gala MMA is a combination of perfect organization of the spectacle of the highest level of sports and media promotion. Players who gets in Warsaw on November 5 Torwar hall are among the leading Polish MMA rankings.
In the second leg duel, this time in the formula of K-1, will face Przemyslaw Saleta and Marcin Najman!
Code:
FILESERVE
http://www.fileserve.com/file/CA6nU3q/MMA.Attack.05.11.2011.Komentarz.PL.DVBRip.XviD-TRODAT.Fight-BB.part1.rar
http://www.fileserve.com/file/px5QA8q/MMA.Attack.05.11.2011.Komentarz.PL.DVBRip.XviD-TRODAT.Fight-BB.part2.rar

FILESONIC
http://www.filesonic.com/file/3158506255/MMA.Attack.05.11.2011.Komentarz.PL.DVBRip.XviD-TRODAT.Fight-BB.part1.rar
http://www.filesonic.com/file/3158510935/MMA.Attack.05.11.2011.Komentarz.PL.DVBRip.XviD-TRODAT.Fight-BB.part2.rar

WUPLOAD
http://www.wupload.com/file/1981537652/MMA.Attack.05.11.2011.Komentarz.PL.DVBRip.XviD-TRODAT.Fight-BB.part1.rar
http://www.wupload.com/file/1981537612/MMA.Attack.05.11.2011.Komentarz.PL.DVBRip.XviD-TRODAT.Fight-BB.part2.rar

FILEJUNGLE
http://www.filejungle.com/f/QgMXuw/MMA.Attack.05.11.2011.Komentarz.PL.DVBRip.XviD-TRODAT.Fight-BB.part1.rar
http://www.filejungle.com/f/NPvDFp/MMA.Attack.05.11.2011.Komentarz.PL.DVBRip.XviD-TRODAT.Fight-BB.part2.rar
Code:
FILESERVE
http://www.fileserve.com/file/HrSjkND/MMA.Attack.05.11.2011.Komentarz.PL.DVBRip.XviD-TRODAT.Fight-BB.avi

FILESONIC
http://www.filesonic.com/file/3158306675/MMA.Attack.05.11.2011.Komentarz.PL.DVBRip.XviD-TRODAT.Fight-BB.avi

WUPLOAD
http://www.wupload.com/file/1981469347/MMA.Attack.05.11.2011.Komentarz.PL.DVBRip.XviD-TRODAT.Fight-BB.avi

FILEJUNGLE
http://www.filejungle.com/f/SxUr2d/MMA.Attack.05.11.2011.Komentarz.PL.DVBRip.XviD-TRODAT.Fight-BB.avi
Currently Active Users Viewing This Thread: 1

(0 members and 1 guests)
Posting Rules

You may post new threads

You may post replies

You may not post attachments

You may not edit your posts

---

HTML code is Off

---