Brief WFA REPORT....IN PROGRESS (SPOILERS)
---
Rob McCullough (sp) vs Harris Sarmiento

Razor Rob wins Unanimous Decision in one of the most boring matches I have ever seen.....about 45 superman punches thrown and clearly over 100 leg kicks (no exxageration on that one)

Ricco Rodriguez vs. Ron H20 Waterman

Ricco weighed in at 298 lbs and it showed LOL hes disgustingly gross in this fight, and Waterman, at 40 years old is still a beast. Ricco wins after the first round when Watermans left eye is swollen shut, pretty good fight sad to say, hell of alot better than the first fight.

Art Santore vs Ivan Salaverry

Fight of the night so far.....Ivan dominated the first round, and then the second with BRUTAL head kicks, and eventually caught him with one square in the face which rocked him, busted him open, and Ivan got the mount and finished it, late in the 2nd round

Jason Mayhem Miller vs. Lodune Sincaid

Mayhem comes out with his breakdancing team, and platinum "grill", Lodune gets a cheap pop when announced as a former TUF superstar hahaha. Mayhem is also announced from Parts Unknown LOL and has a yellow stripe going from the front to the back of his hairline, what a clown.

Mayhem dominates the majority of the first round, spending half of it on Sincaids back.....get the RNC with about 40 seconds left in the first round to secure the victory

Vernon Tiger White vs. Loyoto Machida

To be honest, I took my buddy home during this fight because he fell asleep lol but Machida won Unanmous Decision

Bas is on now, and I'll get back with a report soon
Bas Rutten vs Warpath

Bas dominates the first round with wicked leg kicks, Warpath is limping and Bas damn near cripples him with one big shot with about 2 to go in the first round. Warpath is unable to continue and Bas' return after 7 year abscense is a good one

Main Event Up Next!! WAR RAMPAGE
Quinton Rampage Jackson vs. Matt The Law Lindland

In one of the best fights Ive seen in a long time, full of HUGE slams, submission attempts and just heavy leather being thrown Rampage wins Split Decision in a fight that could have gone either way.

2 times during the fight Lindland looked to have Rampage tapped out (once in a RNC and once in a Guillatine) but somehow Jackson got out of them both. Very impressive showing for the 2 of them, they are already talking about a rematch, only if WFA "ups my pay...chachinggg" to quote Rampage LOL

Overall a decent card, next one is in October
King of the Streets - WFA **spoilers!!**
---
Just watched WFA's comeback show - King of the Streets. The main event was Quinton Jackson vs. Matt Lindland.
Lindland dominated the fight, staying close to Quinton and keeping him on defense the entire time. Quinton was almost choked out twice. When it was all said and done, Quinton got the split decision in what I view to be a terrible decision. But judges don't typically like Matt Lindland's style, and he suffers in decisions because of it. I must say this - Quinton was in shape! He fought a very hard fight, and wasn't even breathing heavy during the post fight chatter in the ring. I was amazed by his cardio!
The gem of the night was the return of Bas Rutten! He fought a big guy named Villareal (after Kimo tested positive for steroid use and was not allowed to fight). Bas looked so happy to be back in the ring! And man was he ripped and in shape! He hit Villareal seven or eight times with huge right hands, hardly slowing the big guy down. Realizing the big punches weren't doing the job, Bas switched to leg kicks. After five or six vicious kicks, the big man went down and could not get up. Awesome win. I have just one request Bas - send a tape of your fight to Arlovski!!!
Jason Mayhem Miller stomped some dude from the first season of the Ultimate Fighter. Easy win for Mayhem.
A bit of a mystery man - Lyoto Machida - made his USA debut, fighting Vernon Tiger White. It was a good stand up fight, though not as lively as I like. But Machida easily handled Vernon. Machida has wins over Rich Franklin and BJ Penn, so we had big expectations for him. But he seemed cautious in his first U.S. fight, although I get the feeling he's the real deal. His style is a combination of Karate and Jiu Jitsu. I'm thinking he's here to stay.
Ivan Salaverry literally whooped Art Santore! Salaverry looked awesome, picking Santore apart for a couple of rounds and then basically beating Art to a bloody pulp for about 30 seconds until the referee stepped in. This was a true ass kicking! Another fight where leg kicks played a big role! I see Salaverry as a real threat at 185. If he comes back to UFC, watch out Rich Franklin!
Well, that about covers it. Good show WFA! We hope you guys are here to stay.
Thak
---
"Thank you ladies and gentlemen, you're a beautiful audience." -Elvis
Welterweight
Join Date: May 2006
Location: TN
Posts: 2,163
Quote:
Originally Posted by CTFlyingKnee
Quinton Rampage Jackson vs. Matt The Law Lindland

In one of the best fights Ive seen in a long time, full of HUGE slams, submission attempts and just heavy leather being thrown Rampage wins Split Decision in a fight that could have gone either way.

2 times during the fight Lindland looked to have Rampage tapped out (once in a RNC and once in a Guillatine) but somehow Jackson got out of them both. Very impressive showing for the 2 of them, they are already talking about a rematch, only if WFA "ups my pay...chachinggg" to quote Rampage LOL

Overall a decent card, next one is in October
great fight commentary.. now we wait for the video.. I want to see Bas
Yes a video would be great, I have been looking around for one but I haven't been able to find it so far, well at least the Bas video.
Megaweight

Join Date: Apr 2006
Location: Everett, MA
Posts: 5,961
Go To Youtube..i Just Saw The Bas Fight There
---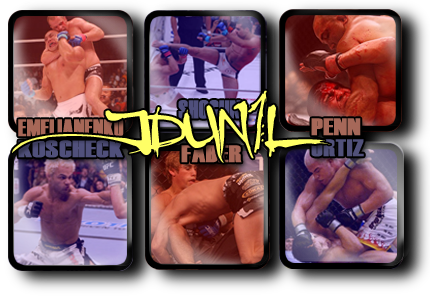 Mancrushes
1.Shogun
2.BJ
3.Fedor
4.Kos
5.GSP
Im in Porno's
Welterweight
Join Date: May 2006
Location: TN
Posts: 2,163
Quote:
Originally Posted by jdun11
Go To Youtube..i Just Saw The Bas Fight There
WEll this sounds like a job for the Video Mod... To the MOD cave..
MMA Fanatic
Join Date: Jul 2006
Posts: 18
WFA - King of the Streets Results WARNING - Dont read, if results are not desired
---
Well, Quinton Jackson wins a split decision over Matt Lindland, this was a great fight, Lindland threatened Jackson w/ submissions (chokes) rear naked and guillotine, Jackson slammed him hard in the first and slammed him on his head in the second..............Bas Rutten beat Ruben Villareal quickly in the first with leg kicks. the big man just collapsed due to Ruttens leg kicks. Rutten first came out and socked him hard with a few right hands but then decided to go to the leg kicks which worked. Other notable bouts were Ryoto Machida beat Vernon White by Unamious Decision. Jason Miller choked out Lodune Sincaid in the first round. Ivan Salaverry took Art Santore out in the 2nd with TKO (STRIKES)....Ricco Rodriguez handed Ron Waterman a TKO due to doctor stoppage at the end of the first round. And Marvin Eastmen and Jorge Oliveira came out with a Draw..........
Thoughts, comments? I feel Bas Rutten is a badass and needs to fights some real opponents and shouldnt even think about retiring.
Currently Active Users Viewing This Thread: 1

(0 members and 1 guests)
Posting Rules

You may post new threads

You may post replies

You may not post attachments

You may not edit your posts

---

HTML code is Off

---