View Poll Results

: WHO IS THE WORLDS BEST GRAPPLER AND SUBMISSION SPECIALIST?

ANTONIO RODRIGO NOGUEIRA
4
14.81%
DEAN LISTER
2
7.41%
RICARDO ARONA
0
0%
ROYCE GRACIE
9
33.33%
FEDOR EMILIANENKO
9
33.33%
ANTONIO ROGERIO NOGUERIA
1
3.70%
RENATO BABALU SOBRAL
2
7.41%
Voters: 27. You may not vote on this poll
Welterweight
Join Date: May 2006
Location: TN
Posts: 2,163
Quote:
Originally Posted by Spit206Fire
Thats stupid because techniqually i think Ken Shamrock was a better grappler then any of these guys and he was pretty good with submissions as well.

And ya Fedor might have been good in Sambo but guess what.

4X National Machado Jiu Jitsu Champion (weight class and open classes)/ 2X National Sambo Champion/ KOTC Middleweight champion/ National Gracie Jiu Jitsu Champion/ North American Qualifier ADCC 2003 Absolute Champion in ADCC/2005 Superfight Champion in ADCC



Thats dean listers records. And i think its more impressive that he's won Sambo, Machado, and Gracie JJ championships.

and guess what he's 8/8 wins in submissions lol
Yea I am a fan of Kens as well he is awesome too. I'd love to train with him.. Its a tought call all these guys are great at what they do.. obviously.. or they would not have made it as far as many of them have.
MMA Fanatic
Join Date: Jul 2006
Posts: 26
for the record guys dean lister is the most decorated submission guy on that list sorry to dissapoint yas peace
MMA Fanatic
Join Date: Aug 2006
Posts: 30
I like Nog in Pride for sure. He's got a hell of a good ground game. Fedor is an animal, I still remember when he almost snapped Marc Coleman in half, and the hammer was damn good still. I don't know the rules of forums, so I am talking generally of UFC and Pride. In UFC balboa is really elite, and I like Dean Lister as well. I dont know if they are at an the one percent elite level like Gracie, but I think both are up and coming fighters and submissions didn't keep Matt Hughes from pounding his face in. Ground and pound is a whole different ball game, but honestly, has anyone Liddel had on the ground lately taken more then two or three head shots. Power is key in this day in age. GSP and Hughes are going to put on a ground show in Aneheim. Just happy I can be there to witness what should be the best fight of the year.
i've earned my stripes

Join Date: Jul 2006
Posts: 5,989
Antonio Rodrigo Nogueira.
---
i'm a monster
i'm a maven
i know this world is changin'
never gave in
never gave up
i'm the only thing i'm afraid of
Quote:
Originally Posted by Bonnar426
Sobral could take everyone of them out.
I thought that you had some respectable intelligence, Bonnar. Maybe I'm confused, but Sobral couldn't beat Fedor or Nog. It's hard for me to imagine that his subs are better than the Boogeyman's.
I've gonna go with Fedor simply because he's the best grappler. He's not the best submission specialist, but he has the best ground control and the best takedowns and would definitely beat the hell out of any of the guys on this list. (in fact, I think he has beaten most of them)
---
Sig by Toxic

Barnett - Toquinho -Werdum - "Nurmie"
Z. Gurgel - Morango - Rocha - Tiequan
Megaweight

Join Date: Apr 2006
Location: Everett, MA
Posts: 5,961
Quote:
Originally Posted by RAZOR
Antonio Rodrigo Nogueira.
YEA I HAD A TOUGH TIME NOT PICKING NOG, THE ONLY THING THAT KEPT ME FROM PICKING HIM , WAS THAT EVERY TIME HIM AND FEDOR HIT THE GROUND, HE WAS DOMINATED..FEDOR JUST DID WHAT HE WANTED WHEN HE WANTED..IF IT WAS STRICTLY A SUBMISSIONS CONTEST, NOG WOULD PROBABLY BEAT ALL THESE GUYS, BECAUSE HE A HUGE GUY FIRST OF ALL , AND HES A SNAKE..
---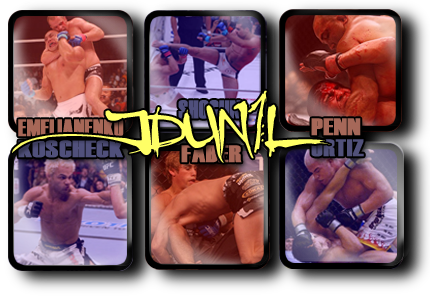 Mancrushes
1.Shogun
2.BJ
3.Fedor
4.Kos
5.GSP
Im in Porno's
in order i would go

1. Nog
2. Horn
3. Lister
---
"I only want to be known as the best ever, is that too much to ask?" - BJ Penn
MMA Fanatic
Join Date: Aug 2006
Posts: 1
I love you !
---
MMA Fanatic
Join Date: Jul 2006
Posts: 41
hmm, guess the spambots fount their way into this forum
---
Inmortality is to live your life doing good things, and leaving your mark behind.
*UISQUE AD FINEM*
Feed proper has already spammed this forum hes back in a new account
.
Currently Active Users Viewing This Thread: 1

(0 members and 1 guests)
Posting Rules

You may post new threads

You may post replies

You may not post attachments

You may not edit your posts

---

HTML code is Off

---