Don't be hard on yourself. It takes a badass to step into a cage and fight, its not something everyone can do. When a person fights they make a bet, a wager against their body. Their temple, in your brain its nuts, its a wager most people would never make. It takes a different person to do that, win or lose, what do you feel about it? Did you learn something, maybe about yourself or about who you are as a person? That is something no one else who never goes there will ever understand or experience. When you lose it makes your next win even sweeter.
---
If a law is unjust, a man is not only right to disobey it, he is obligated to do so. ~ Thomas Jefferson
Sig by D.P.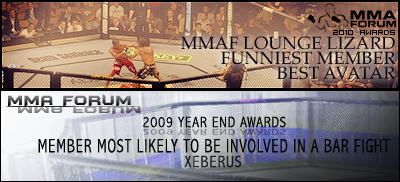 The matchmaker did you no favors this being your 2nd fight, the guy you fought was no can. I learned tons more from my first loss than my first 4-5 wins. You will be just fine.
thanks
---
Last edited by solidxpanda; 09-14-2009 at

03:32 PM

.
For sure though. I learned a lot from this fight. Before we went to the ground I had his back. I knew I didn't have him good, but I still leaned back for a RNC. Even though I knew I didn't have it. That's how I ended up in a bad position. It was just me being nervous and not thinking. I just need more ring experience. Keep my head up. I appreciate the comments everyone!
MMA Fanatic
Join Date: Sep 2009
Location: Kent, Great Britain
Posts: 16
Having watched the video you can't really tell if they are all clean shots getting through. I do agree with a previous thread that the fight on win record wasn't really in your favour and you could have fought someone with a similar record.

My person opinion is that you have the right frame of mind. Hit the gym and train for being in those positions. Get used to being on your back taking shots, at least that way when it happens in a fight you will feel more comfortable and in familar surroundings.

Keep it up tho fella and never feel like your letting people down. This sport is by far one of the hardest to train and fight for. There isn't many joe publics that would do what we do.
Currently Active Users Viewing This Thread: 1

(0 members and 1 guests)
Posting Rules

You may post new threads

You may post replies

You may not post attachments

You may not edit your posts

---

HTML code is Off

---