If he comes at you again. Go for the takedown and get a full mount. Then GNP until somebody stops the fight or until you gas. If not, break his arm with an armbar. After all this stand up and do the Liddell celebration.
first of all, are you a guy or girl?
---
Favorite Fighters:

Roger Huerta
Karo Parisyan
Wanderlei Silva
Frank Edgar
Gray Maynard
I eat babies
Join Date: Jul 2006
Location: Troy, Ohio
Posts: 7,647
One shot full force into his teeth. nothing worse than losing teeth.
Bantamweight
Join Date: Jan 2007
Posts: 540
Quote:
Originally Posted by loller90278
if you win the fight do something really gruesome like open his mouth and spit down his throat or pee on him or do somethng..

nobody will ever touch you durin high school again...
LOL best advice ever.
---
Top 5 fav. fighters (in order)

1. GSP
2. Franklin
3. Lesnar
4. Forrest
5. Big Nog
9th grade is the perfect time to make an example out of somebody. Nobody will mess with you for the next 4 years. If u think u would lose, who says u have to fight fair.
Hit him with something, bite, hit him in the balls it is important that everyone knows not to fu** with u.
Megaweight

Join Date: Apr 2006
Location: Everett, MA
Posts: 5,961
just go up to him and punch him in the face ur hardest. Dont say ne thing just hit him and dont stop
---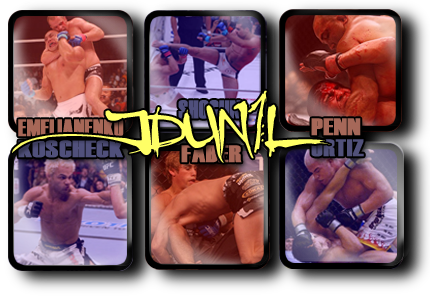 Mancrushes
1.Shogun
2.BJ
3.Fedor
4.Kos
5.GSP
Im in Porno's
wtf is worng with you anyway letting someones punch you in the face 3 times without doing anything?


grow some balls and wail on that mother****er
I eat babies
Join Date: Jul 2006
Location: Troy, Ohio
Posts: 7,647
Next time you see him in the halls, walk up behind him and kick the back of his knee as hard as you can. I guarantee with absolute certainty he will fall to the ground. Kick him right behind the knee with all your might and when he is on the ground, if he is on his back, mount him and pin his arms underneath your legs and beat the shit out of his face. Aim for the eyes and nose, not the teeth, that is stupid because one hit to the teeth and your not gonna feel like punching him anymore because your knuckles are gonna be split open and bleeding everywhere. Aim for the nose and eyes. If he lands on his stomach then punch him in the back of the head and give him kidney shots until he cries. Then stick your finger down your throat and throw up in his mouth. Also if you have to fart you should fart in his mouth.
---
---
Last edited by WouldLuv2FightU; 01-12-2007 at

07:17 PM

.
Currently Active Users Viewing This Thread: 1

(0 members and 1 guests)
Posting Rules

You may post new threads

You may post replies

You may not post attachments

You may not edit your posts

---

HTML code is Off

---