MMA fighter

Join Date: Oct 2006
Location: West Carrollton, Ohio
Posts: 2,575
Amatuer
Join Date: Mar 2010
Posts: 121
Quote:
judges in mma are lame
I agree, just watched the fight.. That was def yours. Good job buddy, keep your head up you got skill.
---
that is some bullshit. i personally was thinking maybe the other guy won round two, the take down i thought could have won it for you... but round 1 was all you. sure you were down just a bit... til you dropped the guy, got full mount and beat his ass the rest of the round. Then round 3, it was all you with the takedown.
i'd have soccer kicked some judges, but good fight mang keep it up
---
If a law is unjust, a man is not only right to disobey it, he is obligated to do so. ~ Thomas Jefferson
Sig by D.P.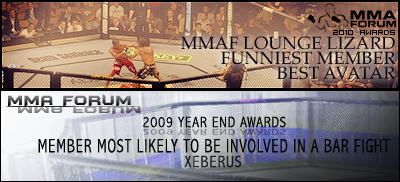 Join Date: Apr 2010
Location: Gods country
Posts: 4,524
I don't understand what the judges are looking at
You might have lost the 2nd round but barely if anything. Damn home town refs but great fight either way
MMA Fanatic
Join Date: Aug 2010
Posts: 99
Close fight.

+ You had dominant position on the ground for approximately 3 minutes 1 second....to his 1 minute 17 seconds.
+ 2 take down's
+ 1 guard pass into side control
+ stood up when he had you on the ground
+ a few decent elbow strikes

- he had a submission attempt
- a sweep
- decent gnp
- slight stand up advantage

I'd say you won the 1st... and the 3rd was close but I think you won that. I didn't watch the 2nd since it seems like everyone agreed that you lost it. I'll check it out later.
Join Date: Oct 2009
Location: Ohio
Posts: 2,719
Worst judging ever.

Blatant in round 1.

Maybe...in round 2.

Obvious in round 3.

You won that fight.

Also: the spinning backfist into side control is some sick stuff! And that second takedown in the 3rd. I actually said "BAM!" in my head when you slammed him!
---
Sig courtesy of that photo-matic magician limba
Quote:
I went out the way that I fight. I went out on my shield. Thatís it. Done. --Chuck Liddell
Quote:
My goal is to end my opponent --Carlos Condit
Was Cecil Peoples one of the judges?? Seriously that was all your fight, very bad judges decision.
Keep it up and you'll get a win very quickly.
---
You're not terribly important to me

Join Date: Jul 2010
Location: Sell me this pen
Posts: 15,507
******* bullshit, i hope this doesnt ruin your motivation because you won that bro
---
Jim Norton
Nick Dipaolo
Dave Attell
Dave Chappelle
Bill Burr
Joey Diaz
Colin Quinn
Bob Kelly
Rich Vos
Patrice O'Neal
Louis CK
Flyweight
Join Date: Aug 2008
Location: Minnesota
Posts: 214
Good fight man. I would say you probably got a little screwed. As others have said, round 1 was you easily, round 2 was probably him, but it wasnt that 1 sided, and round 3 while being close, was still definitely you with 2 takedowns and finishing the round with top control. You should've gotten the win.
Few things I will comment on as a "armchair fighter"
1) Keep your left hand up more. I noticed it dropped a lot in close range situations.
2) Make sure you have proper position to throw kicks. You had a couple REALLY good kicks, but there were also several kicks you threw while leaning backwards/moving back which really didnt have the power they should have.
3) This may be a preference thing when on the ground, but I'd suggest utilizing an underhook on the farside arm when you have side control. At least 2 instances I noticed you had side control and didnt establish the underhook to ensure you had your weight over him. Again maybe thats intentional, as ground games are taught differently, but I'm definitely in the belief that its good to use to really flatten the guy on his back and hold him down while you better your position and plan of attack.
4) Your spinning backfist is seriously one of the better ones I've seen, and I've watched A LOT of fights. The speed you throw it with is pretty incredible, and clearly it has power as it dropped the guy when you cleanly connected. Normally I dont know how much I'd suggest anyone use such a "flashy" maneuver, but with how well you throw it, I'd say keep using it. Not to mention it'll get you some more fans
5) I really liked your poise in the 3rd round when he swept you onto your back. You remained calm the whole time and did a really good job using your hips and legs to stifle his strikes and limit damage, only a couple punches when he finally got your head against the cage looked as if they even connected, but in all I thought it was a REALLY good job of staying poised the whole time, especially for a guy in his first pro fight. Might have been the most impressive part of the fight to me.
6) Class act after the fight. I cannot say how much I appreciate when guys show class after the fight. It speaks a lot to the sport of MMA, and will continue to help its legitimacy and aid in welcoming it into the mainstream even more. After a helluva war you showed a lot of class, and even after a questionable decision you still were very upbeat, and that shouldnt go unnoticed.
Again, I'm just an "armchair fighter" here, so take all of what I've said with a grain of salt, and in no way shape or form do I think I could do better. I think you fought really well, and I'm just trying to make suggestions to help if I can at all. I hope you continue to fight and post your fights here, and if you come fight in my home town I'll definitely come out to watch and support ya.
Anyway, keep kickin ass.
Currently Active Users Viewing This Thread: 1

(0 members and 1 guests)
Posting Rules

You may post new threads

You may post replies

You may not post attachments

You may not edit your posts

---

HTML code is Off

---