vBookie Event

: Chicago vs Oakland (National Football League)
This event is over.
NFL: Chicago vs Oakland
---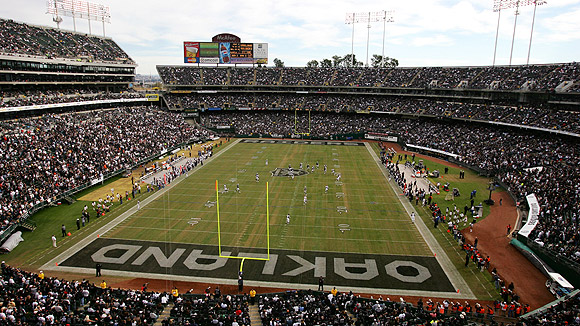 ---
Hmmmmm possible choke job with the Raiders here
---
Credit to M.C !!
Nice work if you picked the Raiders, they won 25 to 20. Still time to bet on the lopsided matchup tonight (in the odds I mean, haven't seen the game yet heh) and the good one tomorrow night!
---
Ugh Raiders played like shit...except for their special teams.....I wonder if they could go back to college? I hear Bama is recruiting lol
---
Credit to M.C !!

Join Date: Apr 2010
Location: Gods country
Posts: 4,524
Game went about how I thought it would except Oakland won. Bears D shutting down Oaklands running game and Chicago running the ball well. The Bears shouldn't have been throwing all those passes with that new QB especially down in the redzone but it worked out for me
Glad my Raiders pulled it out but left my friends house at the end of the 3rd because I was worried. Once Mcfadden is completely healthy I see Oakland being alot better on offense and could see them putting a loss on Green Bays record in a couple weeks if he's back at full speed.
Game could have been pretty much over but that bullshit holding call robbed Bush of a TD on the screen pass. I've gotten somewhat used to Oakland being screwed on penalties but after last weeks tonque lashing of the refs by Jackson they only called 4 or 5 against them today.
Hopefully they can keep winning and end up division champs
Nice game by the baddest Raider they got!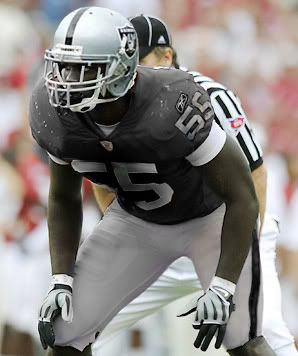 ---

Join Date: Apr 2010
Location: Gods country
Posts: 4,524
Although I like McClain he's more of an outside linebacker playing inside. He's quick, instinctive, good in coverage, but he doesn't do especially well taking on blockers and stuffing the run at the line of scrimmage imo. Don't get me wrong he's a good player, he's just playing out of position.
The real baddest man on the Raiders is their leading tackler from strong safety, Tyvon Branch.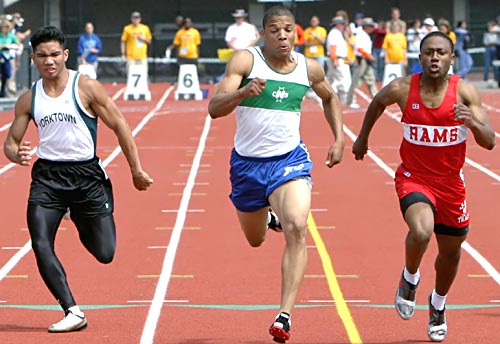 He doesn't get much press but he's one of the hardest hitters in the league and his coverage skills are improving quickly. He won the game for Oakland last week with a pass defense at the end of last weeks game. He stepped up his game when Al drafted Michael Mitchell and has pretty much kept him on the bench aside from running downs. The guy's a player.
You're not terribly important to me

Join Date: Jul 2010
Location: Sell me this pen
Posts: 15,507
thanks fir the easy creds oakland, i have a soft spot ever since I briefly went there and also I like their teams they put out.
---
Jim Norton
Nick Dipaolo
Dave Attell
Dave Chappelle
Bill Burr
Joey Diaz
Colin Quinn
Bob Kelly
Rich Vos
Patrice O'Neal
Louis CK
Currently Active Users Viewing This Thread: 1

(0 members and 1 guests)
Posting Rules

You may post new threads

You may post replies

You may not post attachments

You may not edit your posts

---

HTML code is Off

---