I wasn't that much into the Olympics but now I am: Brazilian Twins
---
---
Twins please... take me home and make me your bitch
---
If a law is unjust, a man is not only right to disobey it, he is obligated to do so. ~ Thomas Jefferson
Sig by D.P.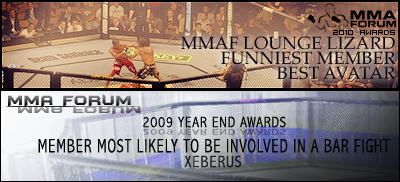 I still won't watch the olympics.
---
Quote:
Composure, your one of my fav posters here so I mean this in a sincere way, please keep your hair as far away from long ever again! Lol
That's nice.
---
RIP Anthony Neil Young 1985-2008
VBookie Record
29-10
Quote:
His swaggers tight like a yeast infection! And he give geese erections!
YESSSSSSSSSSSSSSSSSSSSSSSSSS
---
Fav. Fighters

1. Georges St. Pierre
2. Quinton Jackson
3. Anderson Silva

"If Your Not Cheatin, Your Not Tryin Hard Enough" Tito Ortiz
Forum Bets
54-15
i still wont watch the olypmics, i'll just watch them in there event on youtube or sumin lol
This is SPARTA!
Join Date: Apr 2006
Location: Houston, Texas
Posts: 5,495
WOW.

Still only gonna watch the TKD part of the olympics.
---

oh my
---
"Existence precedes essence"
- Jean Paul Sartre
My podcast/blog:
http://lifeashumans.blogspot.com/
Funniest thing you may ever find on the internet:
www.gentlemanbob.com
or look for gentlemanbob on facebook
NPFFL: Cain Velasquez, Demian Maia, Lyoto Machida, Joseph Benavidez
I'm mainly gonna watch for the wrestling but damn...
---
Last edited by Mikles; 08-07-2008 at

03:22 AM

.
the olympics are awsome man.
those twins are fine
I cant wait to watch the wrestling though
i've met one of the guys who is competing for canada
---
Currently Active Users Viewing This Thread: 1

(0 members and 1 guests)
Posting Rules

You may post new threads

You may post replies

You may not post attachments

You may not edit your posts

---

HTML code is Off

---