Quote:
BUSTED!
tsk tsk Stokes, I expect better from you!
Awww man. Looks like I was the slacker.
MMA Fanatic
Join Date: Aug 2010
Posts: 1
He's talking a lot of nonsence and provocation just to postpone a fight between him and
Manny Pacquiao
. What's with him? Does he have any shame on himself?
Floyd Mayweather Jr.
should retire now.
Join Date: Jun 2009
Posts: 20,860
Yeah I agree but that is boxing these days. It is 100% about the money and getting what you want. I am fully convinced that Mayweather wants nothing to do with Pac Man. He already consented to everything that Mayweather demanded and Mayweather still hasn't made a move.
---
Featherweight
Join Date: Aug 2010
Location: Sydney
Posts: 1,099
Donaire V Montiel anyone? This has all the makings of one of boxings best fights in quite some time!!!
I've been watching the HBO specials about Bradley here lately.... He seems determined and seems like a good challenge to Pac-Man. But I think Pacquiao is gonna go down as one of the greatest of all time. I'm talking Ali/Tyson/Frazier levels. Moreso than Floyd even, when it's all said and done.

Anyway, I'm tempted to buy this fight to see how it all plays out. I think Manny will end up winning ultimately, but it looks like a fun fight nonetheless.
Join Date: Jun 2009
Posts: 20,860
Quote:
Pacquiao-Bradley, June 9th, who takes it?
This is Pacquiao's fight.
---
Well then....
---
2013 VIP FFL Champion
THE DRAGON RIDES AGAIN - 12/20/14
Machida - Alves - Cruz - JDS - Weidman - Condit - Pettis - Edgar - Cowboy - Dodson - Okami
I'm kinda shocked. I thought manny had it :x
---
If a law is unjust, a man is not only right to disobey it, he is obligated to do so. ~ Thomas Jefferson
Sig by D.P.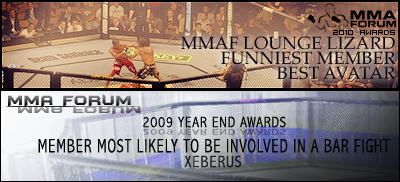 That was the most disgraceful decision of all time.
Currently Active Users Viewing This Thread: 1

(0 members and 1 guests)
Posting Rules

You may post new threads

You may post replies

You may not post attachments

You may not edit your posts

---

HTML code is Off

---