See Kimbo Slice's boxing match against James Wade?
---
This is, ah pretty much the whole thing...


---
Awh now Wade is 0-2. How very mean of Kimbo. Excellent KO though, very entertaining.
---

"There are three things all wise men fear: the sea in storm, a night with no moon, and the anger of a gentle man."
Good. Now they can book him against a boxer in his next boxing match.
---
Rookie Hammer Squad 2015
Frankie Edgar - Dominick Cruz - Jorge Masvidal - Cat Zingano - Holly Holm
Quote:
Good. Now they can book him against a boxer in his next boxing match.
Didnt he fight a cardboard cut out in this fight?
---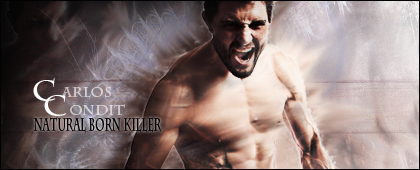 2012 FFL WINNER
CPL RECORDS
UFC 56-32-3 Strikeforce 10-4
I believe this was his opponent
---
Rookie Hammer Squad 2015
Frankie Edgar - Dominick Cruz - Jorge Masvidal - Cat Zingano - Holly Holm
Kimbo Slice wins his Boxing debute.
---
Quote:
Streetfighting sensation turned "The Ultimate Fighter 10" cast member Kevin "Kimbo Slice" Ferguson earned a first-round knockout win in his professional boxing debut.
The win – which came via crushing right hand and left 39-year-old opponent James Wade draped over the bottom rope – took all of 10 seconds.
Team Kimbo promotional advertiser Jared Shaw told MMAjunkie.com (
www.mmajunkie.com
) Slice took the first step toward his future and is likely to return on Oct. 15.
"We realize this is a climb, and Kimbo is serious about making a run in this sport," Shaw said. "Before to can walk, you crawl. Before you reach the roof, you climb, and that is what we are doing. We are working our way through the division and plan to matriculate up the rankings.
"Aug. 13 is the day the real YouTube phenomenon Kimbo Slice made his statement. He's here, and he's not leaving until someone else's gloves say so. In my opinion, he's the toughest out in the heavyweight division due to his true one-punch knockout power."
Wade was fighting for just the second time and is now 0-2. Shaw said he will continue to move Slice's career forward at an acceptable pace and hopes the bearded brawler's MMA fans will continue to follow his boxing career.
"We thank all the fans and MMA loyalists that continue to follow Kimbo's career," Shaw said. "We hope MMA can respect boxing and boxing can respect MMA. Kimbo is a competitor and a fan of both. We are back."
Slice's next competitor has yet to be determined. And while Shaw said Oct. 15 is the most likely date, he also said at least two different hosting sites are under consideration.
Not MMA related but i thought people might still be interested.
So does anyone think Kimbo can make a splash in boxing?
I think those 10 seconds alone showed alot of mistakes he makes. And i think his legs have permanent damage done to them.
---
---
Last edited by SideWays222; 08-14-2011 at

05:57 PM

.
I harbor no ill-will towards Kimbo and I wish him success, but putting him in there with this opponent proves nothing. Kimbo has received some of the best training a fighter can get, has a massive team around him, and has fought in the UFC. This was an obvious gimme fight so what's the point? Oh...Money, that's right.

Put him in there with a guy who at the very least had a decent amateur background.

Of course having said that, the American HW scene is dreadful at the moment. To the point where Antonio Tarver is seeking the HW title just to add some excitement to the division. One thing Kimbo will definitely do, is bring excitement. And in Boxing his team can get away with fighting overmatched opponents for a longer period of time. Something that is not easily done in MMA. I. The process he will make a ton of money. But his opponents won't. They will be lucky to make an 8th of his purse.

Time will tell.
Featherweight
Join Date: Aug 2010
Location: Sydney
Posts: 1,099
Kimbo Slice wins boxing debut
---
Against a tomatoe can if ever there has been one and at his age, not much hope of ever developing to being anything decent. Think he is more looking to get a few cans in his resume and then hopefully get a fight against one of the aging legends for a freak show fight the likes of Toney V Couture in MMA.....not sure what to think of it really.
http://www.youtube.com/watch?v=BR2g0kkGnqU
Thanks for posting I almost forgot about this, man he knocked that guy OUT!!! I don't know anything about his opponent and considering his record hes probably not very good but I'm interested to see how Kimbo does boxing. Am I the only one that thinks if Kimbo would have started 5, 10 years ago he could have had a future boxing?
Currently Active Users Viewing This Thread: 1

(0 members and 1 guests)
Posting Rules

You may post new threads

You may post replies

You may not post attachments

You may not edit your posts

---

HTML code is Off

---