MMA Fanatic
Join Date: May 2007
Posts: 80
using my size to my advantage
---
hi guys, i need some help using my fairly large size to my advantage.
atm im 6ft3 and 200 pounds or so, i have a huge reach (i havent measured it, but its nearly 5 inches longer than my kickboxing coaches)
the trouble is, im not sure how to use my extra reach to my advantage when sparring with smaller guys. alot of people at my gym keep telling me to keep my jabbing hand going all the time, but if i throw a single jab they usually slip in underneath me and get on the inside.
i seem to get alot of success from a left jab/left hook combo mainly i think because its all reach.
anyone got any tips for me? all i ever seem to read about is smaller guys needing advice to fight bigger guys
Learn how to strike while moving backwards/ circling. Feel free to just use your jab to push them back. Keep your distance.
name goes here had some pretty good advice; use your footwork to maintain distance as best you can. If they're charging in on you, stepping backwards diagonally works wonders. In order to chase you, they'd have to change directions first, which will put a halt to their advance.

The advice to continuously use your jabs is very solid. If you can do this in tandem with good footwork, it'll be very hard to get in on you.

Also, unless elbows are allowed, short hooks and uppercuts are definitely your friend when someone is too close for comfort. That is to say, when you throw said punch, the bend in your arm is less than 90 degrees.

Good luck.
---
Highly opinionated but out of touch with the current MMA scene.
Support my FB athlete page!
Watch my 7th pro fight here
Watch my "Bare Knuckle" Boxing match here
double and triple up your jab, and learn to hit on the move and at all angles.
Featherweight
Join Date: Apr 2007
Location: Germany
Posts: 1,461
Watch fights of klitschko. He is jabbing all the time. He does what you have to learn.
---
FightingIsBelieving

Nichts reimt sich auf Uschi!
Nothing rhymes on Uschi!

Wer ist hier noch Deutscher ausser mir?
A friend and myself were sparring earlier today hes about 5'8" and 250lbs and im 6'3" at 220. I have a huge reach advantage on the poor guy, yea im pretty much constantly firing off the left jab. he at first tried to reach in and come to me but heres the thing while hes coming forward and im going back I can still connect to his chin except his hand is still recovering from the punch he just threw so I hit him. Pretty much all he could do was kicks without getting torn apart.

watch Tyson vs Lewis, Lewis does a great job of taking advantage of the reach.
---
If a law is unjust, a man is not only right to disobey it, he is obligated to do so. ~ Thomas Jefferson
Sig by D.P.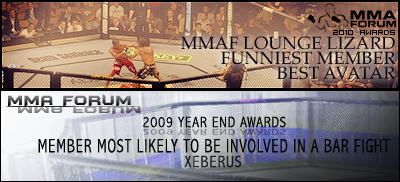 MMA Fanatic
Join Date: Mar 2008
Location: Fayetteville, NC
Posts: 26
I'm a big guy too 6'4" and about 175. i love my reach advantage i keep the jab up almost non stop, and if somehow they do manage ti get in to close for my jab i have a wicked clinch. being so long comes in handy a lot. It helps standup and when the fight goes to the ground i excel while in the gaurd. i love it
MMA Fanatic
Join Date: Jun 2008
Posts: 25
stay far away as possible, if a short guy gets near you your screwed, depending on your situation your size can be a weapon and a weakness
Currently Active Users Viewing This Thread: 1

(0 members and 1 guests)
Posting Rules

You may post new threads

You may post replies

You may not post attachments

You may not edit your posts

---

HTML code is Off

---