MMA Fanatic
Join Date: Jan 2008
Posts: 1
strikes conditioning
---
There may be another thread on this but are there any exercises I can do in the gym (like a fitness gym) that will help me strike harder and faster (punches, kicks, knees and elbows)? I understand there's a technique aspect but I just want to know how I can condition my muscles so that I will be able to hit faster and harder with the technique improvement.
Outta My Head
Join Date: May 2006
Location: Paramount, CA
Posts: 1,220
Then go out an practice your technique and hit some pads or a heavy bag. I know too many muscle-bound behemoths who spend life times in the free weights section of the gym and still throw shots like little girls. Working on your actual technique is going to be better for your striking than maxing your bench.

If you want other things that may teach you how to utilize your muscles, plyometrics work wonders, and so does stretching. If you can't move your limbs in the proper range of motion, you won't be able to strike worth a damn.

Aside from that, find an axe and a big tree, or a truck tire and sledgehammer and go to town. It teaches you how to co-ordinate the whole of your body into your striking movements (not just your arms), and also teaches you control if you want to keep your kneecaps intact. That is, if you are doing it right.
---
It doesn't matter if you agree or disagree
... As long as I don't bore you and I spark a moment of thought,
my goal is achieved
.
Queng leon queng tigre ecu tacacut, queca pa? - Pampangan Mandarigma Motto

Some that I like:
Medicine Ball Toss
Negative Bench Presses
Single-Arm Cable Punches
Standing punches while holding dumbbells or bands
Incline Twist Sit-up
Negative Seated Leg Extensions
I prefer negatives because the tension of slowly lengthening the muscle with the weight (eccentric motion) is similar to that found in grappling when you start applying a hold and the explosion to contract the muscle (on the concentric motion) mimics that in striking and scrambling.
I assumed you were only referring to the kind of exercises you could do in a gym.
Here's a good source:
http://www.rosstraining.com/articles/hardcore.html
i heard push-ups work the muscle used when you punch.
actually Bas Rutten said that
Quote:
I'd rather my guys do good pushups, on their fists, elbows in and right down to the floor. You don't punch with your chest muscles, you punch with you triceps. You punch with that same motion you do with your elbows inside doing pushups. Bottom line, everything I do in power training, is going to be a muscle you'll use in fighting.
No frills easy way you can get more power is doing a good old fashion elbows in push-ups. That and hit the heavy-bag. Having KO power in your punches really isnt that hard if you know how to punch. You might want to hit up a boxing gym. Once you learn to put your hips and shoulder behind you punch as you twist into it is the best way to get KO power without being really strong.
---
If a law is unjust, a man is not only right to disobey it, he is obligated to do so. ~ Thomas Jefferson
Sig by D.P.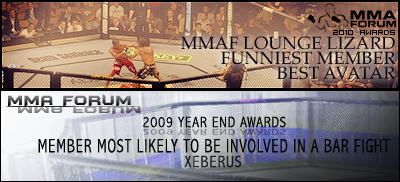 Clap pushups.

EDIT: And burpees.

But this will only account for a meager fraction of your power. The rest will come from good technique or lack there of.

But yeah... clap pushups and burpees will cover the basics.
---
Highly opinionated but out of touch with the current MMA scene.
Support my FB athlete page!
Watch my pro highlight reel
---
Last edited by Kin; 01-31-2008 at

02:01 AM

. Reason: had to elaborate
Flyweight
Join Date: May 2007
Posts: 244
Shot putting.....

Seriously, that will help you throw a stronger punch. No joke.

I did track and field in high school and threw shot put. After that I was laying down some nasty punches.
---
[SIGPIC][/SIGPIC]
Flyweight
Join Date: Nov 2007
Posts: 222
I saw on sports science with Rampage Jackson that alot of power comes from the ass muscle (when the energy is making its way up from your foot to your fist), so I suggest squats. Also I suggest core work so you can really twist your body with force and as for the arm triceps, biceps and forearms to gain power with all your punchs.
I dont know if anyones mentioned this yet or not but the sledgehammer workout/axe chopping wood is great for building up your muscles for the overhand right as well as building some core strength for striking. I see that used in alot of MMA gyms including John Hackleman's (Chuck's coach) and when UFC All Access showed Rampage training in Big Bear he was chopping wood.
I do the sledgehammer/tire workout (though I have been slack these last couple weeks and not doing it everyday since I hurt my back in training) and it feels great and I think it really works.
http://www.youtube.com/watch?v=sYcGVujSNDE
is when I first started the workout and you can see my size gains on the second video, though you cant see the explosiveness I gained and the speed in punching.
---
Fav quotes:
Quote:
His KO of Babalu was pretty rough, too. He knocked him so silly he tried to grapple Big John.
Quote:
Originally Posted by XPEHBAM, Feb 18 08 : 8:27pm
I truly think Tank not only veteran of the UFC .. but also.. KFC...
Currently Active Users Viewing This Thread: 1

(0 members and 1 guests)
Posting Rules

You may post new threads

You may post replies

You may not post attachments

You may not edit your posts

---

HTML code is Off

---