Users Awaiting Email Confirmation
Join Date: Oct 2007
Location: oklahoma
Posts: 495
My fight June 1st
---
I have a fight June 1st mma rules in a ring and its at 185. My opponent is a really good boxer and boxed in the military. Im a good striker but he is way better. I have better kicks and ground game. Does anyone have any gameplan stratagies to stay out of his striking game so i can take this fight my way.
I am a boxer. I am actually a HW, but because Ive trained in boxing I know what kind of problems Ill have in a MMA.

Against myself, I would say throw kicks, use the clinch. If you cant shoot to take him down use the cage, How to avoid my powerful strikes you want to close the gap clinch me and put me against the fence. Use sweeps and put me on the ground.

Because I am so one dimensional if I cant out strike the person im fighting, I dont have a good chance at winning.

Your going to want to take him down as soon as possible and keep the fight there.
---
If a law is unjust, a man is not only right to disobey it, he is obligated to do so. ~ Thomas Jefferson
Sig by D.P.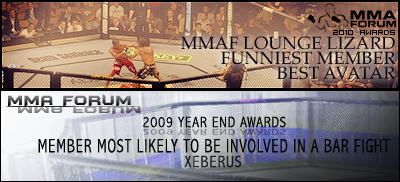 Keep the distance and throw lots of leg kicks, and then set up the takedown with strikes. If he's a boxer he's going to be uncomfortable on his back so it's probably wise to put him there
---
What a stud
Quote:
The power of Aleks, his small baby and pimp hardcore dogs has granted you useful insight, my friend.
my friends a boxer and whenever we spar i'll wait for him to throw the jab then follow his arm in his my own jab then clinch him and attempt a sweet.....like wukkadb said set the take down up off of strikes....throw a couple combos, if he backs up or covers up, explode in for the shoot
---
The surest way to corrupt a youth is to instruct him to hold in higher esteem those who think alike than those who think differently.
Friedrich Nietzsche
start off and feel him out, get some leg kicks in clinch against the cage then take him down.
---
Team Link Member

NPFFL: Evan Dunham, Daniel Cormier, Jim Miller, Cole Konrad
MMA Fanatic
Join Date: Feb 2008
Posts: 13
Do not stand up with him take this fight to the grounds asap. Just trust me either you learn boxing which is too late you should submitt this guy.
Currently Active Users Viewing This Thread: 1

(0 members and 1 guests)
Posting Rules

You may post new threads

You may post replies

You may not post attachments

You may not edit your posts

---

HTML code is Off

---