Amatuer
Join Date: Jul 2006
Posts: 158
What is chi? And how do you develop it?
---
Does the concept of "ch'i" enter your training program?
If so, what is ch'i? And what exercises develop chi?
Chi as in spiritual energy that the secret monks and kung fu dojos use?

lol. all the same i'd like to hear someone who has some knowledge of it.
---
If a law is unjust, a man is not only right to disobey it, he is obligated to do so. ~ Thomas Jefferson
Sig by D.P.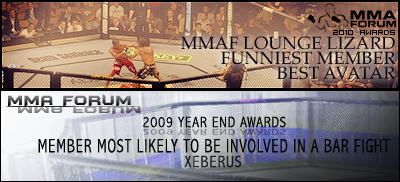 MMA fighter

Join Date: Oct 2006
Location: West Carrollton, Ohio
Posts: 2,575
I have chi and it keeps me from being hurt in a fight. I have never lost a fight and I owe it all to my traditional martial arts training and most of all, chi.

By the way Im just messing around, I have heard about it and it is some martial arts thing that was popular before mma came around and showed people what really works and what doesnt
I am taking bagua and developing chi or Qi power doubt anyone who hasn't experienced it to understand or believe but from what I have been doing it isn't some mystical power but more controlling functions of your body like circulation for instance. But by doing the right movements as well as breathing and visualization you get the sensation of Qi.

Bagua is more of a combat form of Tie chi where you take a while to learn movement to increase your Qi focus calm and get your body to move together then you get in to combat applications.

ever since starting Bagua or Pakua as some people call it I found that my circulation is better my stress management is better I am more calm and I feel that I move better.

they only way to learn and develop it is by getting an instructor no matter what they say you cant learn it from a tape or book. you can learn the applications but they wont be as affective.
---
"The fat man flies at midnight"
Go to your nearest techno club. Look for the guy with glowsticks, making green circles in the dark so fast it looks like a ball. That dude's got Chi.

Just kidding. I do believe there is such a thing as chi, which is basically focused energy, but I don't believe in it as you'd see in the old kung fu movies or on street fighter (HIRUKEN!). I believe it's more of an inner peace/focus & concentration sort of thing. Like Americanfighter said.
Flyweight
Join Date: Jan 2008
Posts: 340
dragon dragon ball dragon ball Z!
Chi is bullshit.
---
NYBA Champ @ 170!
BEST EVA!
I use it to shoot fireballs from my hands.
Flyweight
Join Date: Jan 2008
Posts: 340
blasphomy!!
KAMEEEEEEEEEHAMEEEEEEEEEEEEEHAAAAAAAAAAAAAAAAAAAAA AAAAAAAAAAAAAAAAAAAAAAAAAAAAAAA
still standing?
I definately think Meditation and breathing exercises are good for you, but Chi doesn't exist, medically or scientifically.

Whatever, "HADOUKEN!!!11"
Currently Active Users Viewing This Thread: 1

(0 members and 1 guests)
Posting Rules

You may post new threads

You may post replies

You may not post attachments

You may not edit your posts

---

HTML code is Off

---