Stun attack in my opinion. Leaves you open and is very hard to connect.

If you're at very close range, use the ever-so-devastating spinning elbow instead.
To be honest i'd be to afraid to use it. When I fight I dont take my eyes of my opponent.
---
If a law is unjust, a man is not only right to disobey it, he is obligated to do so. ~ Thomas Jefferson
Sig by D.P.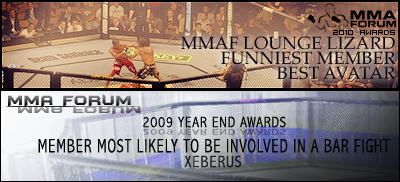 MMA Fanatic
Join Date: Mar 2008
Location: Fayetteville, NC
Posts: 26
i personally prefer the "Spinning Back Claw" taught on youtube.com by Tim
Kennedy
MMA Fanatic
Join Date: Jun 2008
Posts: 25
MLS... regular backfist aint useful? wtf? you know it is more powerful than a punch right? maybe your not doing it right? or not enough swing?

Can the backfist punch(or strike) also be an effective knock-out technique?
Yes definately...

And why?
Because it does so much damage, but it will take more time for you to learn it than a punch, its more complicated, just like a punch, you need start your spin/swing from your legs to your hips, to your arm, But when you use a backfist start with it closed, like curl your arm, than unfold each joint as you get closer to your target, everytime you unfold your joints, you get more acceleration, and speed in your swing, like nos basically in a car, so it should basically be like a whip, and then follow throught like a bat swing at the end. back spin, takes too much time.
Currently Active Users Viewing This Thread: 1

(0 members and 1 guests)
Posting Rules

You may post new threads

You may post replies

You may not post attachments

You may not edit your posts

---

HTML code is Off

---