Have your friend double team him with deadly double karate chops to the back while he tries to take you down?
Against somebody untrained I will always use the Thai clinch followed by knees to the chest and face whilst using the elbows to the shoulders or spine. Situations change but I almost always use the clinch-knee-elbow combo then push them away slightly for a big right cross elbow to finish.
I've only been in a few street fights, but like previously stated, the Thai clinch kills. Each time the other guy rushed me throwin haymakers left n right. ducked one, got in tight, went chute box on their asses
---
FAVORITE FIGHTERS


LW-Guida
WW-Hughes
MW-Hendo
LHW-Shogun
HW-Fedor


"Hope dies last"
Curitiba Food and Liquor

Join Date: Dec 2006
Location: NY
Posts: 16,176
I've never been in a fight, but my impression is that on the street, all the rules of any kind are off.
---

Sig Credit to Toxic

The best way is to not get into a fight in the first place. Why take the risk? What if he does manage to sucker punch you? Have fun falling on the pavement and waiting for a ref to stop him from smashing your teeth into the ground.

Second to that, yeah get back at an angle, remember to protect your head, and straight kicks work well enough to provide a bit of distance to land a straight punch. Also jabs help as non fighters tend not to use them. Mostly though don't be a damn idiot and avoid fights on the street.
---
"We are all one." - Genki Sudo
Amatuer
Join Date: Jun 2008
Posts: 103
haha.. best advice, just keep your eyes open, its that easy.

every non fighter i have fought blinks like crazy, watch for it, and take advantage.. i notice they often blink when they throw a punch, just avoid(duck,move or step back) and counter, get a good punch in and it will stun them.. from there if there still standing just throw a few hard blows till there done

edit, oh yeah... keep your hands up
---
Last edited by ryano1985; 12-24-2008 at

12:55 AM

.
With a non punch! BA-DUM TSSSHH!! I definitely did just do that.
---

Honestly just stay away from fights... If you do happen to get in a fight, stay away from their wild swinging early on aand perferable walk away.
I have been boxing since I was 14, wrestling since I was in 6th grade, and doing BJJ for 4 years... I have yet to use that in a fight, but have been in a few...
No shame in walking away, and no honor in kicking some random dudes ass.
Unless they get really anoying then
(its a joke)
How do you fight a non-fighter?
guys its a trick question, the answer is... you don't
---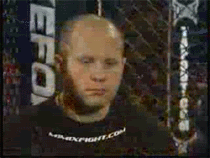 Banned
Join Date: Apr 2009
Location: Canada
Posts: 11
Non fighters usually ty to put you in a headlock so i would look out for that, but to your situation when he swings his arms wildly, best thing to do is to land a good leg kick or knee to his solarplex
Currently Active Users Viewing This Thread: 1

(0 members and 1 guests)
Posting Rules

You may post new threads

You may post replies

You may not post attachments

You may not edit your posts

---

HTML code is Off

---